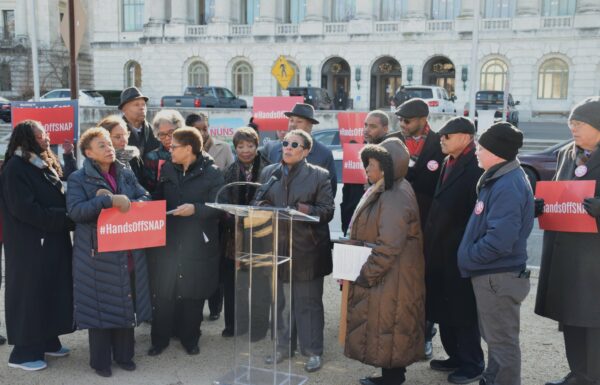 December 20, 2019
Yesterday, Members of Congress, and representatives from the Food Research & Action Center (FRAC) and CAP Action gathered outside of the U.S. Department of Agriculture to denounce the Trump administration's cruel cuts to SNAP.
In a Scrooge-like kickoff to the holiday season, the Trump administration finalized the first of three proposals to cut the Supplemental Nutrition Assistance Program (SNAP). The rule would cut nearly 700,000 people off of nutrition assistance. Taken together, the three rules will take food off the tables of an estimated 3.7 million people.
The event featured Reps. Marcia Fudge (D-OH), Jim McGovern (D-MA), Eddie Bernice Johnson (D-TX), Sanford Bishop (D-GA), Karen Bass (D-CA), Barbara Lee (D-CA), Alma S. Adams (D-NC), Sheila Jackson Lee (D-TX), and Gwen Moore (D-WI). Also in attendance were Reps. Robin L. Kelly (D-IL), Joyce Beatty (D-OH), Jahana Hayes (D-CT), Hank Johnson (D-GA), Donald M. Payne, Jr. (D-NJ), Steve Horsford (D-NV), and Lacy Clay (D-MO).
Additional speakers included: Jim Weill, president of the Food Research & Action Center, Alexandra Cawthorne Gaines, vice president, Poverty to Prosperity Program at the Center for American Progress, Sister Simone Campbell, executive director of NETWORK Lobby for Catholic Social Justice, and Mike Curtin, CEO of D.C. Central Kitchen.
Watch the full event.
Memorable quotes from Members of Congress and national and local leaders from the press conference.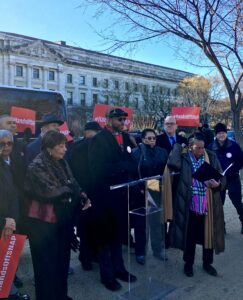 Michael J. Wilson, director of Maryland Hunger Solutions, emceed the event and started it off with a quick story: "Alton is 42 years old. He's a part-time worker, he's formerly incarcerated and he has an injury. He's going to lose access to SNAP not because he's not working, but because he is poor."
"Let's make our voices heard when we leave this place and say that by the time they start these cuts in April, we will have changed the face of America by standing up to people who need to know what we stand for," said Rep. Marcia Fudge (D-OH).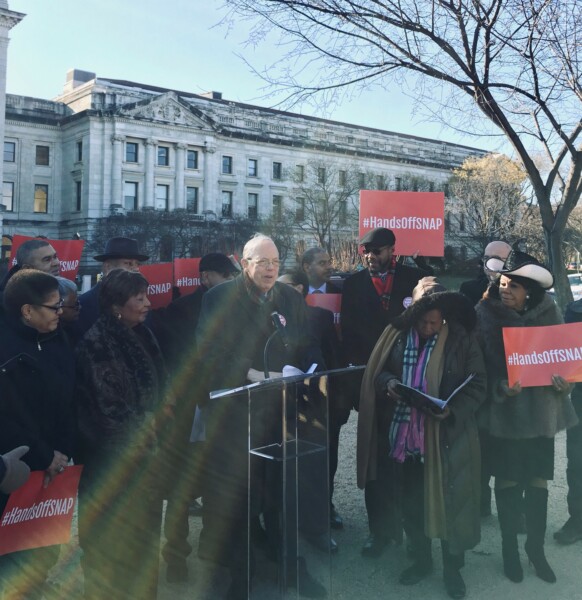 "This rule harms communities, farmers, retailers, the economy, state governments trying to exercise wise options  and do smart policy in SNAP, and of course, it particularly harms almost 700,000 struggling people trying to make it in the workplace and get enough food on their tables. The rule contradicts the legislation that Congress passed almost exactly a year ago. [The rule] will make people hungrier, less healthy, less able to work. It's a senseless and cruel outrage," said Jim Weill, president, Food Research & Action Center (left, at podium). 
"I asked Secretary Perdue when he came before the Agriculture Committee to produce the research for the basis of their new rule. You know what we received? Nothing! None one piece of paper, not one fact. This is about waging war on the poor and stereotyping the hungry to fit within a narrow and bigoted view of the world. The reality is that hunger is everywhere in America. And if these cuts are finalized, I think the administration is going to find that out the hard way," said Rep. Jim McGovern (D-MA).
"It's immoral and unethical that in the richest and most powerful country in the world we have people going hungry, and we have an administration that wants more people to go hungry. Personally, I just have to say, I was on food stamps for a few years, it was a bridge over troubled waters. My government assisted me and my family. I can't imagine what it's like now. First of all, the fear and the worry that people are going through during this holiday season, that they may lose SNAP benefits. … No one should go to bed hungry. No child should have to worry about where they're going to have their next meal. We must keep fighting back against these attacks," said Rep. Barbara Lee (D-CA).
"I know this proposal hurts people because my state already did it. In 2015 the North Carolina legislature passed a law preventing waivers and the law took away benefits from 100,000 of our state's poorest adults in our most job-deprived areas. … North Carolina has restricted waivers, and I'll tell you, it's a bad policy and we should not make it nationwide," said Rep. Alma S. Adams (D-NC).
"Let's think for a moment about the administration's appointees in this building behind us … who are charged with making our country stronger and better, yet are staying up at night thinking of ways to tear us apart and beat people down. Beat people down who have been systemically excluded and discriminated against for decades," said Mike Curtin, chief executive officer, D.C. Central Kitchen.  
Although she was not in attendance, the District's mayor, the Hon. Muriel Bowser, also weighed in on the harmful impacts pf the rule on vulnerable District residents:
"We are deeply disappointed in the Trump administration's decision to implement a policy that will increase hunger nationwide by causing hundreds of thousands of Americans, including approximately 16,500 Washingtonians, to lose access to SNAP benefits. Let's be clear: Hunger does not resolve barriers to employment. Hunger does not solve inequality. Hunger does not solve poverty. This cruel policy does not live up to our values as a nation, and now we must work together nationwide to resist these changes and protect our most vulnerable neighbors."