February 14, 2023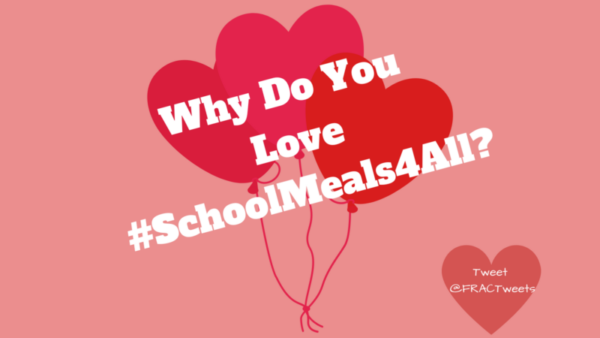 This Valentine's Day, the Food Research & Action Center (FRAC) is  asking people to share why they love free healthy school meals for all. And there is a lot to love. Healthy school meals provided to all students at no cost to families have been shown to:
ensure all students are hunger free during the school day and ready to learn;
reduce stigma associated with eating school meals;
end unpaid school meal debt; and
ease administrative burdens for schools.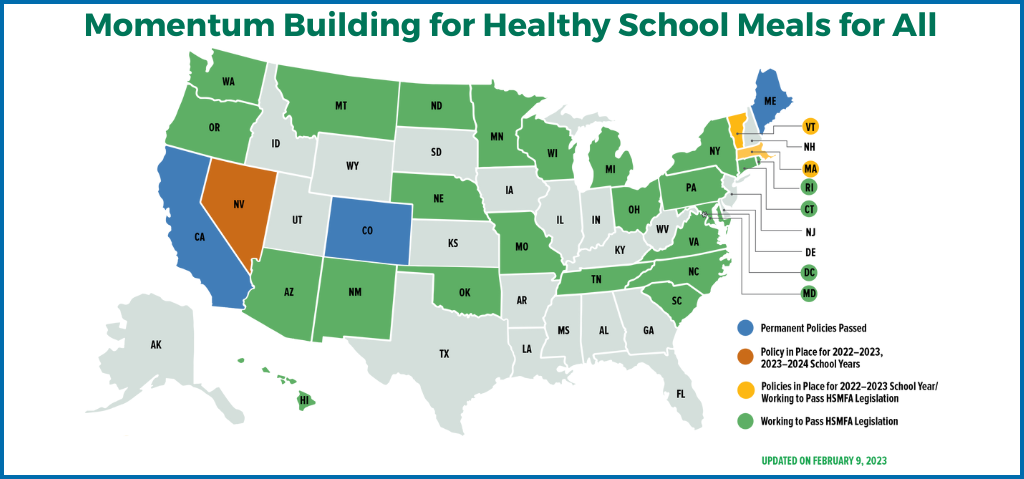 During the COVID-19 pandemic, waivers provided by U.S. Department of Agriculture allowed schools to serve free meals to all students, regardless of household income. Students, parents, teachers, administrators, and school nutrition staff across the country saw firsthand the benefits of free meals.
Several states have already acted to make free school meals a permanent part of the school day, including California, Maine, and Colorado. Additional states have established free school meals for the 2022–2023 school year, including Vermont, Massachusetts, and Nevada. Many more states are positioned to follow in their footsteps. Over 20 states have active HealthySchool Meals for All campaigns. To learn more, check out FRAC's current list of state Healthy School Meals for All bills.
Here are just some of the reasons people love school meals for all:
"My daughter is a single mom. For two years [during the pandemic], her children got free breakfast and lunch at school. This made a huge difference in her family expenses every month. It was much easier to pay for heat and water while receiving school lunch." — grandparent
"[Free school meals] saves us precious morning prep time." — parent
"It's been incredibly personally healing to see how universal meals has really equalized school meals and allowed all students to access them without stigma. I would watch a whole class come down for breakfast together or whole class line up for lunch, and it literally brought me to tears to see how universal meals changed the culture of school meals." —school staff member
"Thanks to healthy free school meals, I can be confident and have a peace of mind that my daughters are getting fed at school." — parent
There is so much to love about free school meals for all, and momentum for this issue is building across the country. Join the social media conversation and tag @fractweets on Twitter and @fracgram on Instagram to share why you love #schoolmeals4all.  Visit www.freeschoolmealsforall.org to stay up to date on all the latest information.