July 14, 2022
More than 50 years have passed since the United States convened the White House conference that helped elevate hunger as a national priority and sparked major improvements and expansions to the federal nutrition programs.
This September, the White House Conference on Hunger, Nutrition, and Health will take place with the goal of ending hunger. Read FRAC's strategies on how to end hunger in the U.S. by 2030. In addition, FRAC, along with other anti-hunger organizations underscored five priorities for the conference.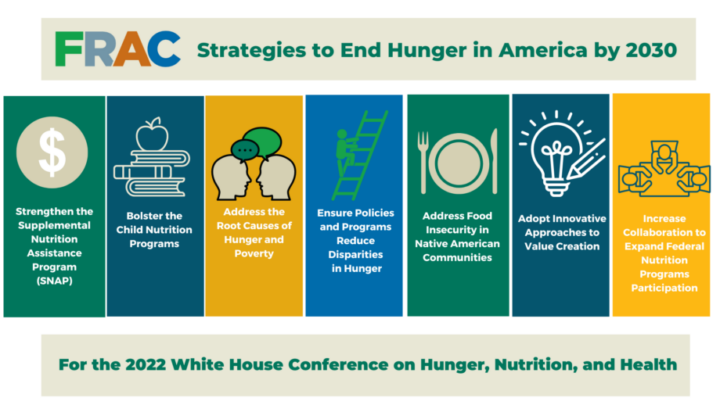 To ensure these priorities and strategies are put into the forefront during the conference, FRAC nominated several people to speak about their lived experiences with hunger during a series of virtual, regional listening sessions hosted by the White House. In this blog series, read the remarks from some of these advocates. 
Here are the remarks from Benyamin Chao:
"My name is Benyamin Chao. I'm a Policy Analyst at the California Immigrant Policy Center. Also, I'm formerly undocumented. I'm here today to share my experiences with food insecurity and how it has impacted me and my family. I grew up in a low-income undocumented immigrant household in Long Beach, California. I was born in Brunei, a small nation in Southeast Asia, and immigrated to the United States at the age of two with my mom and three brothers. She was a single mom with four sons seeking religious freedom, a better life for herself and her kids. She pulled it off somehow. She worked as a caregiver for the elderly to earn just enough to raise us. At the same time, there wasn't much institutional support to help us get through the struggles of poverty. Free school lunch was a lifeline for me and my brothers,  but summers were hard. Food stamps weren't an option for us. Federal laws excluded us because of our status even though we were well below the income threshold.
Without support and with little resources, this meant sacrificing the quality of the food we ate at home or prioritizing our groceries over school supplies or clothes. My family and I would continue to struggle with poverty and food insecurity into our adulthoods because of our inability to work. My younger brother and I could not apply for DACA during the Trump presidency. We have spent 24 years living in the U.S., building community, and contributing how we can. Even though I was able to adjust my status, it is difficult to continue to see my family struggle.
Why does food and health matter so much to me as an immigrant? Ten years ago, my older brother was arrested and detained by ICE. This was the summer going into my senior year in high school. I would visit him every weekend with my mom to see how he was doing– when we would normally be at the beach or relaxing at home. I noticed firsthand the insufficient nutrition he was provided during this time. He rapidly lost weight because he wasn't eating enough and his skin and fingernails started to turn orange. I learned that the only fresh food he was provided were carrots. The experience of my older brother opened my eyes to the impact the food we eat and have access to has on our health.
We all have a basic right to healthy and nutritious meals. Immigration status shouldn't matter. After his release, my sibling started over and studied to be a chef. As a caterer and an owner of three fast-casual restaurants, he plays an important role as a provider of nutritious meals to his community.
When I think of my brother's story, I am reminded that if we invested in nutritious food for everyone, we would all thrive as a community. We all need resources; our bodies and minds need fuel to grow.
So many others in California and across the nation have faced and continue to face experiences similar to mine. A recent report using data from UCLA's Community Health Interview Survey indicates that 45 percent of undocumented Californians live in households impacted by food insecurity. For undocumented children in California, this rate is nearly every 2 out of 3 children. Recent estimates tell us that between 690,000 to 840,000 Californians are income-eligible for Supplemental Nutrition Assistance Program (SNAP) but they are unable to qualify due to their immigration status.
The situation will continue to get worse as inflation impacts food prices. We need to act together around a vision where everyone has access to food. That is why we in California are advancing a Food4All proposal that would provide state food assistance to all state residents, regardless of immigration status. I am happy to see so many of my colleagues from California working to make Food4All a reality.
Our vision is for not just all Californians, but everyone who calls this country home. Everyone should be able to access nutritious food when they are in need. I urge our leaders at the federal level to reevaluate the harmful legacy of immigrant exclusion in our safety net.
The pandemic has illustrated the importance of including everyone who calls our nation home, in our communities, in our economies, especially immigrants, and our collective health. When everyone has the food they need, we can be a more resilient, and thriving nation. No exceptions, no exclusions!"