November 7, 2022
This September, the  White House Conference on Hunger, Nutrition, and Health took place with the goal of ending hunger in the U.S. by 2030.  It was the first conference of its kind in more than 50 years. The previous conference helped elevate hunger as a national priority and sparked major improvements and expansions to the federal nutrition programs.
Velle Perkins, an anti-hunger advocate with lived experience with food insecurity, attended the event. Below she shares her reflections on the Conference.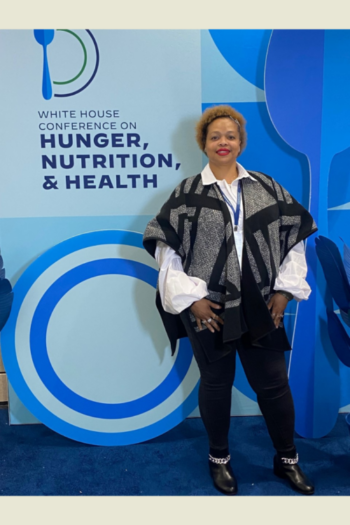 My experience as a participant at the White House Conference was truly a definition of a moment where you roll up your sleeves and stand for everything, or you roll down your sleeves and accept anything.  Of course, I rolled up my sleeves.
I will always stand behind everything it takes to hear the unheard and be their voices in both the darkest times and in times where there is light.
The morning of the conference, I was dropped off at the Ronald Reagan Building which I have never visited before in my life even though I was born and raised in Washington, D.C.. As I ran down the street, anxious with my heart beating, to get inside and lay my eyes on the individuals who are advocating and fighting to end hunger in America.
I was nervous to be in the company of those who have paved ways for others to eat and not go hungry, even if it was just for a day.
Hunger is what I know as the most crippling, unfortunate, and devastating feeling in the world.
I almost could not breathe as I remembered what it was like as a young child to feel those hunger pains and the uncertainty of not knowing how I was going to get through another hard day of figuring out who I was going to visit to get a morsel of food. Was it going to be a friend's house, a food bank, a church line, or someone who knew me and my situation? Often I happened to bump into someone that had my back for that day of hardship who would provide me with a resource to eat,  whether it was inviting me into their home to eat a plate of food, giving me some money to buy a meal, or giving me some food items in a bag to eat (which I had to figure out where I was going to cook it or just eat it out of the can). Other times, I ran to the store for them  using the change to buy me  something to eat or maybe I was treated to something for helping friends or others around their house.
Embracing the capacity of this historical moment was truly amazing.
I was absolutely honored to be an advocate guest of FRAC at the conference and to also be in the presence of Luis Guardia, the president of FRAC. I had the chance to speak with Luis and I can say it was truly amazing how he listened to me and showed me his undivided attention.  With all that was taken place on this delicate day in history that spoke volumes to me.
I witnessed President Biden being introduced and stating how vital it is to end hunger by 2030.
I had the chance to meet Claire Babineaux-Fontenot, CEO of Feeding America, a woman leading the largest domestic hunger relief organization; she too was amazing.
To hear Chef Jose Andres speak and see his passion and how he was instrumental in elevating the importance of making sure people are being fed was heartfelt.
I listened to panel discussions that gave me new experiences and heard how these passionate individuals started organizations for our youth and families to receive services, support, nutrition and exercise. Dedication is an energy that is priceless.
I had the honor of sitting at a table with Harold Phillips, director of the White House Office of AIDS Policy.
During a working session, I learned how other participants, support groups and organizations, are developing systems to support individuals with diabetes. I had a chance to speak to this group on how domestic violence also relates to hunger based on my lived experience from my childhood.
This is why the federal Child Nutrition Programs are vital to everyone. They help so many families by alleviating food insecurity and supporting our health and well-being.
Food is fuel for the body, mind, and soul. That is why it was everything for me to attend the White House Conference. I plan on continuing to be  an advocate for the children, youth, the elderly and my community. until I can't advocate anymore.
As mother would say " A CLOSED MOUTH DON'T GET FED."