May 25, 2022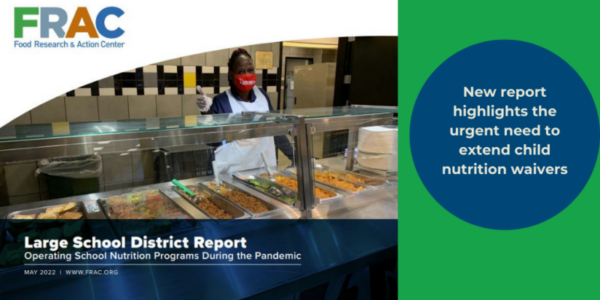 School meals are a critical component of our nation's response to the pandemic. During school year (SY) 2020–2021 and SY 2021–2022, school meals, provided millions of students nutritious food whether they were attending school in person or virtually.
School nutrition staff have served as frontline workers during the pandemic, supporting students' access to healthy meals and playing a critical role in combating childhood hunger. They developed creative strategies for dealing with supply chain issues, and new serving models to accommodate remote learning and social distancing.
According to FRAC's recently published Large School District Report: Operating School Nutrition Programs During the Pandemic, which surveyed 62 large districts across 31 states, the child nutrition waivers have been critical in helping school districts respond to school closures, student quarantines, distance learning and other challenges during COVID-19. Congress had given the U.S. Department of Agriculture (USDA) the authority to issue these waivers during the pandemic but, unfortunately, they are due to expire on June 30 despite the ongoing need.
Even with most students returning to the classroom for school year (SY) 2021–2022, schools continued to face a variety of challenges. The report reveals that, of the 62 large districts surveyed, 98 percent identified supply chain disruptions as a challenge, and 95 percent identified labor shortages as a challenge. These challenges would have been even greater if not for the nationwide child nutrition waivers.
Staff also reported significant benefits to serving free meals to all students during the pandemic:
95 percent reported that serving free meals to all students, regardless of household income, has helped reduce child hunger in their school district;
89 percent reported that it made it easier for parents and guardians;
85 percent reported that it eliminated stigma associated with school meals:
82 percent reported that it supports academic achievement.
Other key findings of the report include:
In October 2021, a total of 30,569,003 breakfasts and 55,798,092 lunches were served in the 62 districts surveyed. All of them were served at the free rate through the Seamless Summer Option.
Average daily participation (ADP) in breakfast increased by over 518,000 across all surveyed districts from 1 million children in April 2021 to 1.5 million in October 2021. ADP in lunch increased by approximately 1.4 million, from 1.4 million in April 2021 to 2.8 million in October 2021.
Fifty-two districts saw an increase in breakfast participation from April to October 2021, and 61 districts saw an increase in lunch participation from April to October 2021.
The combined reach of breakfast among the 62 districts trailed lunch in both April 2021 and October 2021.
There have been lessons learned from school meal operations during the pandemic and longstanding best practices that can and should be used to increase access and participation in the School Breakfast Program and National School Lunch Program.
FRAC recommends the following policies:
Make free school meals available to all students.
Extend USDA nationwide waiver authority.
Expand direct certification.
Support breakfast after the bell models.
Watch our video and raise your hand for healthy school meals for all!