May 25, 2022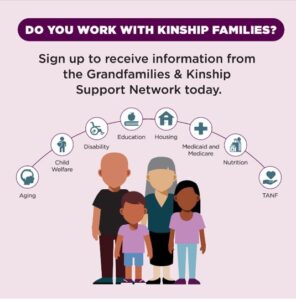 As Older Americans Month draws to a close, it's fitting to honor the role grandparents play in our lives. The scores of grandparents and kinship caregivers, who have taken on the responsibility of raising children whose parents are unable to do so, deserve special praise.
Eight million children live in a household headed by a grandparent or another relative. Kinship or grandfamilies provide stability in times of uncertainty, offering numerous positive benefits for both children and caregivers. Children are more likely to thrive in kinship and grandfamilies compared to non-kin foster care settings.
But these families who step up to raise children—most often due to unexpected and stressful circumstances like the death of a parent or parental substance use issues—need more support to access systems and benefit from policies that too often focus on supporting biological parents and are not structured to respond to the strengths and needs of kinship and grandfamilies.
To help kinship and grandfamilies access resources for children in their care, FRAC is honored to serve as the anti-hunger and nutrition expert for the Grandfamilies & Kinship Support Network. This network is the first-ever national technical assistance center for those who serve kinship and grandfamilies. The network, led by Generations United, brings together the nation's leading experts on kinship and grandfamilies, including those who have the fundamental expertise of being a grandfamily member.
The grandfamilies and kinship network exists, free of charge, to offer a new way for government agencies and nonprofit organizations in states, tribes, and territories to collaborate and work across jurisdictional and systemic boundaries—all to improve supports and services for grandfamilies and kinship families. This network is rooted in cultural competence and linguistically appropriate approaches, and is fully accessible to people with disabilities.
Honor an older adult in your life by the following:
Sign up to access the Grandfamilies & Kinship Support Network and its resources, including interactive learning opportunities from peers and an array of experts—all at no cost;
Spread the word about the network through your social media outlets: The Grandfamilies & Kinship Support Network works to ensure equity in policies and systems so they can support all kinship and grandfamilies bit.ly/3qscZO4
Share your ideas on how the national network can reach across jurisdictional and systemic boundaries to eliminate silos, promote equity, and create a way for professionals working with kinship and grandfamilies to help one another and be helped in return.
FRAC is especially interested in learning your thoughts on obstacles and opportunities to connect kinship and grandfamilies to the Supplemental Nutrition Assistance Program and other federal nutrition programs. Reach out to Alex Ashbrook, director of Root Causes and Specific Populations, at Aashbrook@frac.org for more details.