June 6, 2023
Last month marked the official launch of the National Healthy School Meals for All Coalition, a diverse group of 18 national anti-hunger, education, and child advocacy organizations dedicated to building support for and passing permanent free Healthy School Meals for All legislation at the federal level. The Food Research & Action Center is proud to convene this coalition of dynamic organizations and formalize the work that has been done through partnerships for years to advance school meals.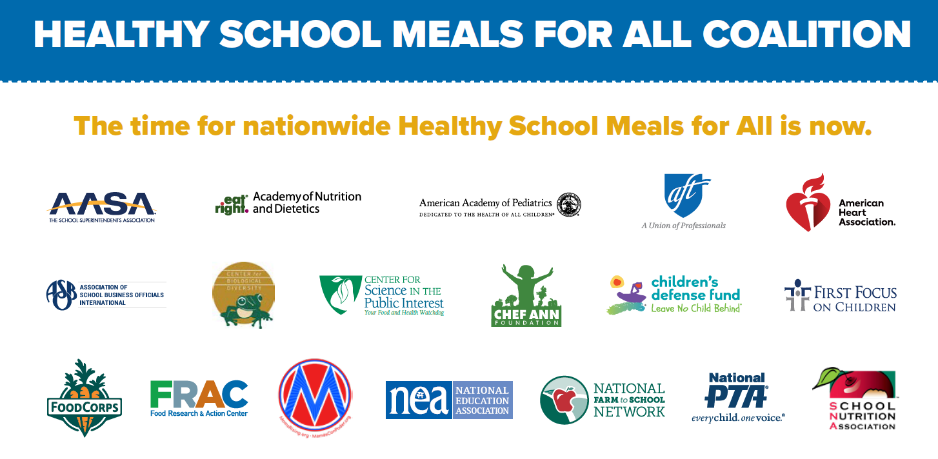 During the height of the COVID-19 pandemic, waivers from the U.S. Department of Agriculture allowed schools to serve free meals to all students, regardless of their household income. School meals were a core component of our country's pandemic response and highlighted the critical role that school meals play in supporting students' nutrition, health, and learning. Additionally, for more than two school years, we had the opportunity to pilot a nationwide Healthy School Meals for All policy, and the results were a game changer for students, families, and schools. 
Research links participation in school meals to positive educational and health outcomes for our nation's children. School meals are just as important to academic success as textbooks, computers, and transportation, and all children should have access to them every school day. We know that free healthy school meals for all students:
ensures all students are hunger-free and ready to learn;

reduces stigma associated with eating school meals;

ends the problem of unpaid school meal debt for families and schools;

eases administrative burdens;

supports innovative service models like breakfast in the classroom; and 

advances racial equity by providing every child with the food they need to get the most out of their school day.
As vital as the school nutrition programs are to ensuring children's access to healthy, nutritious meals, too many children in need miss out on school meals because of the program's current structure. Many struggling families do not meet the eligibility threshold for free meals, which requires a family of three to earn less than $30,000 annually. The current structure, with some children being offered free meals or meals at a reduced price, and others paying for their meals, also leads many children who are eligible for free or reduced-price school meals, particularly those in middle and high school, to choose not to participate because of stigma.
Several states decided they did not want to return to the pre-pandemic system of tiered meal payments. To date, five states, including California, Maine, Colorado, Minnesota, and New Mexico, have passed permanent Healthy School Meals for All policies. They have built momentum around this issue and many other states are poised to follow suit. 
Now is the time for nationwide Healthy School Meals for All so that all students, regardless of what state they live in, can benefit from free school meals. 
For more information about the coalition, including a full list of member organizations, visit www.FreeSchoolMealsforAll.org.