May 1, 2023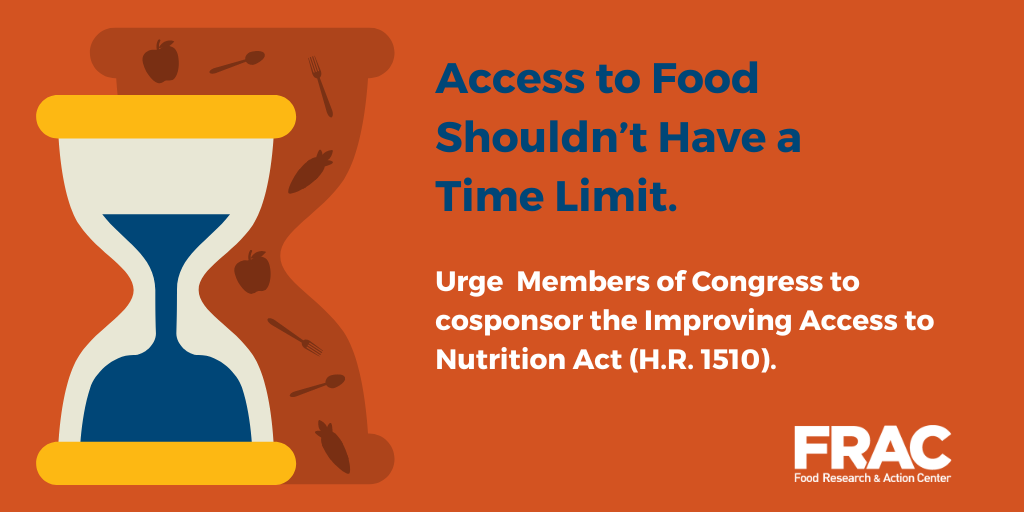 Supplemental Nutrition Assistance Program (SNAP) changes that worsen time limits on food benefits for certain unemployed and underemployed adults were attached to the debt limit package (H.R. 2811) that cleared the House on April 26.
As the Senate takes up debt limit legislation, and Members of Congress continue working toward a 2023 Farm Bill, we need to set the record straight on the current SNAP time limit rules, how they were enacted and implemented, and why, instead of worsening them, Congress should pass legislation, the Improving Access to Nutrition Act of 2023 (H.R. 1510), to end SNAP time limits entirely.
First, pursuant to an amendment to the 1996 welfare law, so-called "Able-bodied Adults Without Dependents" (ABAWDs) ages 18 to 50 without dependent children are restricted to three out of 36 months of SNAP benefits (formerly called "food stamps") unless they are documenting 80 hours of work or qualifying activity each month. The proposal was attached to the overall welfare bill at the House Rules Committee in the last stages of that bill process.[i]
When it was proposed in 1996, the SNAP time limit provision was opposed by most congressional Democrats. President Clinton pointed to the SNAP time limit as problematic when he signed the welfare law in August 1996. [ii]
As enacted in 1996, the statutory provision allows states to seek waivers of the SNAP time limits for those in areas of 10 percent  or higher unemployment or other indicators of "insufficient jobs." During a brief House floor debate on the measure,[iii] Republican proponents pointed to the availability of such area waivers to counter concerns about benefits for people during particularly tough economic conditions.  Amendment sponsor Rep. Bob Ney (R-OH) stated that "there are hardship exemptions. It can be waived. There are safeguards in this."[iv]
In 1997, the Clinton administration negotiated for some additional modest protections for those subject to the time limits. A budget deal with Congress established a pool of discretionary exemptions that states could use for participants subject to the time limits (so-called 15 percent exemptions), as well as additional SNAP Employment and Training funds to serve them.[v] The most recent Farm Bill lowered the number of discretionary exemptions for state use but rejected a House proposal to bar states from accumulating exemptions and using them in future years.[vi]
Since 1996, U.S. Department of Agriculture has worked with state SNAP agencies on implementing the time limit provisions, including by issuing policy guidance on the use of area waivers and discretionary exemptions and formal rulemaking.[vii]
Over the more than two decades the SNAP time limits have been in place, governors of both parties have used the "safeguards" to some degree. Among the first governors to request area waivers of the provision was Republican George Pataki of New York.[viii]
Nonetheless, "safeguards" on SNAP time limits have not fully protected against greater food hardship.[ix] At times, states have failed to seek waivers for areas that would qualify under economic criteria, not applied discretionary exemptions, and/or had difficulty in properly screening applicants exempt as unfit for work.[x]  Some states are alleged to have applied area waivers on a racially discriminatory basis.[xi] Advocates for people with disabilities have pointed to the time limits as problematic for that community even though rule language is supposed to protect them.[xii] Polling shows strong support for suspending SNAP time limits among people with disabilities as well as among the overall public.[xiii]
Moreover, the time limit provisions are not calibrated to adjust timely for national economic downturns. In early 2009, the Obama administration and Congress acted to suspend the time limits temporarily during the great recession — but there was a lag time in the response[xiv] — economic data shows that the recession had started a year earlier. With the disruptions associated with the COVID-19 pandemic, it again took congressional action to suspend the time limits temporarily during the pandemic.[xv]
Last week's House-passed debt limit package would worsen the SNAP time limit rules by increasing the age to 56  for the population subject to them and barring states from using accumulated exemptions in the future. Other pending bills aimed at the Farm Bill would undermine the waiver provisions and broaden the scope of the time limits to people ages 60 or even 65, as well as to adults with dependent children as young as 6 or 7. [xvi]
Fortunately, a pending bill (H.R. 1510) introduced by Rep Barbara Lee (D-CA) would do the right thing and end SNAP limits. H.R. 1510 is gaining traction and already has 67 House cosponsors. Join Food Research & Action Center in urging more Members of Congress to cosponsor and pass H.R. 1510, and end SNAP time limits.  Hungry people can't wait.
---
[i]Congressional Record, Vol 142, No 106, July 18, 1996, at pages H7904 and H7906
https://www.congress.gov/congressional-record/volume-142/issue-106/house-section/article/H7796-1(comments from Representatives Charles Stenholm (D-TX) and Karen Thurman (D-FL), respectively)
[ii] Administration of William J. Clinton, "Statement on Signing the Personal Responsibility and Work Opportunity Reconciliation Act of 1996 August 22, 1996,"  https://www.govinfo.gov/content/pkg/WCPD-1996-08-26/pdf/WCPD-1996-08-26-Pg1487.pdf
[iii] Congressional Record, Vol 142, No 106, July 18, 1996,at pages H7903-H7907  
https://www.congress.gov/congressional-record/volume-142/issue-106/house-section/article/H7796-1
[iv] Congressional Record, Vol 142, No 106, July 18, 1996,at page H7905
https://www.congress.gov/congressional-record/volume-142/issue-106/house-section/article/H7796-1
[v] Food and Nutrition Service, "A Short History of SNAP," USDA, https://www.fns.usda.gov/snap/short-history-snap#1999 (discussing The Balanced Budget Act of 1997 (BBA),  PL 105-33,)
[vi] See Joint Explanatory Statement of the Committee of Conference, Conference Report on Agriculture Improvement Act of 2018, https://docs.house.gov/billsthisweek/20181210/CRPT-115hrpt1072.pdf
[vii] See Final rule, USDA, 6/19/2022, https://www.federalregister.gov/documents/2002/06/19/02-15294/food-stamp-program-work-provisions-of-the-personal-responsibility-and-work-opportunity
[viii] See Raymond Hernandez, "Pataki to Seek Waiver on Requiring Work for Food Stamps," The New York Times, 2/21/1996, https://www.nytimes.com/1997/02/21/nyregion/pataki-to-seek-waiver-on-requiring-work-for-food-stamps.html
[ix] See FRAC Chat, "Q& Q&A: The Georgetown Center on Poverty and Inequality Shares Why You Should Fight SNAP Time Limits — the Latest Proposed Threat to Low-Income People," Food Research & Action Center (FRAC),,  4/1/2019,  https://frac.org/blog/qa-the-georgetown-center-on-poverty-and-inequality-shares-why-you-should-fight-snap-time-limits-the-latest-proposed-threat-to-low-income-people
[x] See FRAC Chat, "Q& Q&A: The Georgetown Center on Poverty and Inequality Shares Why You Should Fight SNAP Time Limits — the Latest Proposed Threat to Low-Income People," FRAC,  4/1/2019,  https://frac.org/blog/qa-the-georgetown-center-on-poverty-and-inequality-shares-why-you-should-fight-snap-time-limits-the-latest-proposed-threat-to-low-income-people
[xi] See Jackie Borchardt, "Advocates Fight for Food-Stamp Waiver,", Cleveland Plain Dealer,  8/19/2014, https://www.toledoblade.com/Politics/2014/08/19/Advocates-fight-for-food-stamp-waiver.html
[xii] See Ellen Vollinger, "Recommitting to Economic Justice in SNAP," FRAC, 6/30/2019, https://frac.org/blog/recommitting-to-disability-economic-justice-in-snap
[xiii] See The Century Foundation, "Just 3 in 10 Disabled Voters Believe Leaders in Washington, D.C. Care About People with Disabilities, Finds New TCF and Data for Progress Poll," 4/21/22,  https://tcf.org/content/commentary/just-3-in-10-disabled-voters-believe-leaders-in-washington-d-c-care-about-people-with-disabilities-finds-new-tcf-and-data-for-progress-poll/ (
[xiv]See Hilary Hoynes and Diane Whitmore Schanzenbach, "Strengthening SNAP as an Automatic Stabilizer," Brookings, 5/16/2019, https://www.brookings.edu/research/strengthening-snap-as-an-automatic-stabilizer/
[xv] Andrew Cheyne and Ellen Vollinger, "A Strengthen SNAP Agenda to Address the Hunger Cliff—Part 1,"FRAC, 2/3/22, https://frac.org/blog/strengthen-snap-agenda-part-1
[xvi] Ellen Vollinger, "Let's End Time limits on SNAP Benefits,"FRAC, 4/14/23,   https://frac.org/blog/lets-end-time-limits-on-snap-benefits