March 15, 2023
Have you ever really thought about all the people involved when getting food — from the farm, producer, or supplier, to our children's' cafeteria? Policies that ensure Healthy School Meals for All  can do even more when they are designed with a focus on equity for and economic impact on each person who helps to get that food onto a child's plate. They can transform the food system as we know it.
Healthy  School Meals For All policies can do even

more than feed children.
The pandemic highlighted the urgency of moving toward a more resilient local food supply. Strengthening the value chain in local and regional food systems helps address root causes of food insecurity by improving local economies, farmers' take-home share, career opportunities for scratch cooking in schools, and more. Farm to school is a key strategy in this effort.
According to the White House conference plan to end hunger by 2030, "expanding efforts to increase access to local and regional food systems, enabling more schools to cook meals from scratch by funding training and equipment purchases, investing in the school nutrition workforce, and expanding nutrition education for children" are essential components to Healthy School Meals for All policies.
Across the country, we need a system of school meals that serves all children and values the people who get it to the table. That's why National Farm to School Network (NFSN) is advocating for values-aligned universal meals focused on equity for the most impacted stakeholders across the food system. We are pleased to work with partners from across the country, including Food Research & Action Center, we created the "Who's at the Table School Meals Campaign" to provide tools that communicate how our shared values can create healthy school meals for all kids that transform our food system, and advocate for the policies to do that.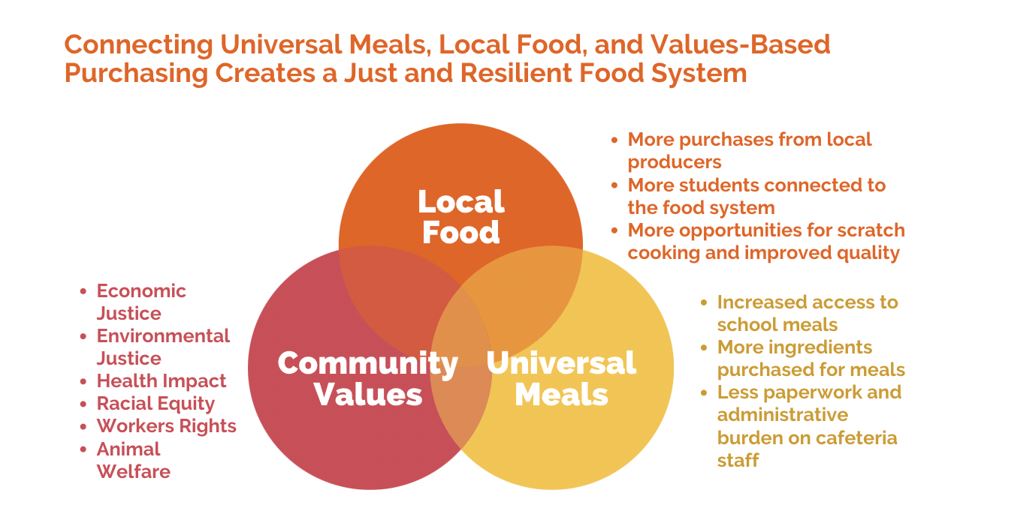 A December 2022 policy landscape analysis by National Farm to School Network found that states that introduced universal meals also tend to have a high involvement in local food legislation.
Two-thirds of states with enacted universal meals legislation have local purchasing incentive programs, which directly provide schools with additional money to include local foods in school meals. For example, Maine reimburses school districts 33 percent of the cost of local ingredients through the Local Foods Fund.
States that have introduced universal meals also tend to have
a high involvement in

local food legislation.
The following are states' Healthy School Meals for All policies with provisions that directly support the local food economy:
Colorado's Healthy School Meals for All Public School Students Act (HB22-1414) was passed by public ballot in November 2022. This bill gives districts a grant award that is equal to 25 cents per lunch meal, with a minimum award of $5,000. Districts must spend the grant funds on Colorado-raised, grown, or processed products, and cannot spend more than 25 percent of their award on processed foods. This bill also creates grant programs that support training and capacity-building for local producers, cafeteria staff, and schools.
New Mexico's Healthy Universal School Meals Act (SB 4) would give additional funding to districts that meet meal quality improvement requirements. "Meal improvement" includes meals made with local and fresh ingredients, meals that are scratch-cooked and culturally relevant, and menus developed with student and parent input. This bill would provide schools an additional 10 cents per lunch that can only be spent on local food. A percentage of these funds (75 percent) must be spent on fresh and minimally processed ingredients.
If stakeholders can agree that giving children the best possible food in school is part of giving them a good start in life, then let's also make sure that the entire system that gets the food to them is just and equitable. It's time to reimagine the system that feeds our students — but we have to do it together. From schools to policymakers to parents to farmers, anti-hunger advocates, and more, it takes a community to ensure that wholesome, economically and environmentally sustainable foods fuel our students. Just as farm to school is a triple win for kids, farmers, and communities, policies that expand healthy school meals with our shared community values benefit us all.
For more information:
Visit NFSN's website to earn more about our six values and get to know the multiple players involved in getting food from the farm to the lunchroom. Play our game, "What's on the Table?", to learn more about how values fit into school meals, and much more!
Visit NFSN's State Policy Tracker Map, which is updated weekly. We track universal meals policies and other bills that expand access for all kids. This includes eliminating meal shaming and meal debt.
Subscribe to our newsletter at farmtoschool.org/join.
National Farm to School Network has a vision of a strong and just food system for all, and we seek deep transformation toward this vision through farm to school — the ways kids eat, grow, and learn about food in schools and early care and education settings.