February 1, 2022
On the Ground: Connecting Families to WIC
Last January, to support pediatricians in addressing food insecurity, The Food Research & Action Center (FRAC) teamed up with the American Academy of Pediatrics (AAP) to launch Screen & Intervene: A Toolkit for Pediatricians to Address Food Insecurity.
A year later, FRAC's Katie Jacobs and Geri Henchy joined Vice Chair of the AAP Council on Community Pediatrics, Dr. Kimberly Montez, and AAP's Senior Policy Associate, Madeline Curtis in a training on implementing the Screen and Intervene framework in healthcare clinics with a focus on opportunities to connect children up to five years old and their families to the Special Supplemental Nutrition Program for Women, Infants, and Children (WIC).
The presentation highlighted how households with young children have higher food insecurity rates than households without children, with Black and Latinx households disproportionately affected.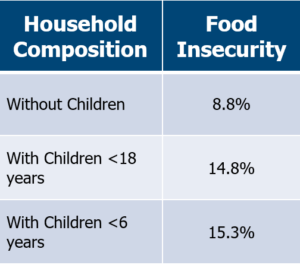 The training lifted up the importance of pediatricians addressing food insecurity by connecting families to the federal nutrition programs including WIC. WIC reduces food insecurity and poverty, improves dietary quality, and improves overall health and well-being. Families who participate in Medicaid, SNAP, and TANF automatically meet the income-eligibility requirement for WIC.
Three Steps to Demystify Misconceptions
Oftentimes families with young children are unaware that they are eligible for WIC. They may not know children up to age 5 are eligible in addition to infants, or they may be worried about the enrollment process which is easier than ever with online and phone services available during COVID-19. Immigrant families may have immigration-related concerns even though there is no public charge issue in using WIC benefits and WIC does not release personal information. To help increase participation, the training highlighted three steps:
Identify potentially WIC eligible patients;
Educate families about WIC; and
Make WIC referrals and connections.
Here are a few ways to make WIC referrals and connections for families with young children.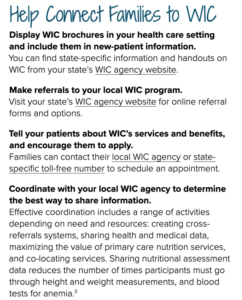 Read more about these recommendations in FRAC's WIC guide for health care providers.
Advocacy for WIC and Other Federal Nutrition Programs
The training highlighted that in addition to connecting patients to nutrition programs inside the clinic to address hunger, pediatricians can act outside the clinic to address food insecurity.
Pediatricians can share success stories from their Screen and Intervene efforts, to highlight all the benefits of connecting patients to WIC and other nutrition programs.
By leveraging their trusted voice and expert knowledge on the harms of food insecurity, pediatricians can play a critical role in advocating for policies to address hunger. A key opportunity is to urge Congress to pass Build Back Better with the child nutrition provisions intact.  Additional opportunities include the supporting the inclusion of  Wise Investment in Children (WIC) Act  as part of  Child Nutrition Reauthorization.
AAP Senior Policy Associate, Madeline Curtis, shared tips during the training on what to highlight when pediatricians advocate for WIC.
Her tips include:
Benefits from the program to highlight in your advocacy work:
The nutritional importance of the science-based WIC food packages
The increase to the WIC cash value benefit recently provided by Congress allows families to purchase more fruits and vegetables; and
WIC's successful breastfeeding peer counseling program.
Improvements and expansions in the program that could help to reduce barriers to WIC:
Co-locating WIC with medical clinics
Allowing medical providers and WIC to more easily share health-related data
Extending WIC certification periods,
Streamlining eligibility with other federal nutrition programs,
Increasing outreach to eligible families, and
Extending the age limit for WIC to six years of age.
Screen and Intervene to Address Food Insecurity
Pediatricians know first-hand the harms of hunger to children's health, development, and learning. By screening and intervening with the guidance from the AAP/FRAC toolkit to address food insecurity, pediatricians can help connect children to federal nutrition programs like WIC that improve food security, reduce poverty, and improve overall health.