July 25, 2022
On June 5, alongside FRAC's Chief Government Affairs Officer Ellen Teller, FRAC's Nomi Small, network and events coordinator, and Steve Hayward, senior communications coordinator, staffed an advocacy table in New York City at the West Side Campaign Against Hunger's (WSCAH) inaugural 'Rock the Block' party. They describe their experience in the following blog. Follow the hashtag #FRAConTheMove on social to learn more about FRAC staff participation in state and local events throughout the year.
FRAC staff brought a healthy dose of street advocacy to Manhattan's Upper West Side, equipped with a paper plate campaign centered on solutions for ending hunger. We met hundreds of neighborhood locals and dedicated advocates alike who stopped by the FRAC table to learn more about ways to engage with elected officials.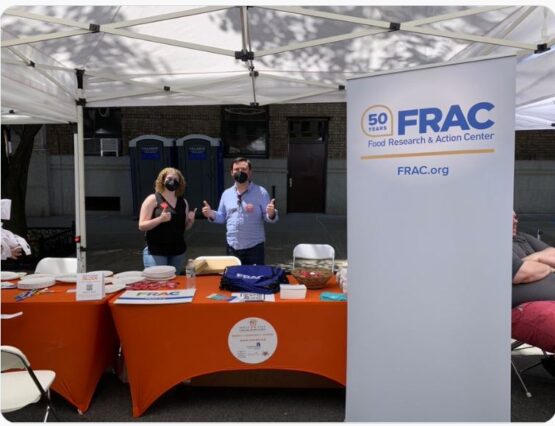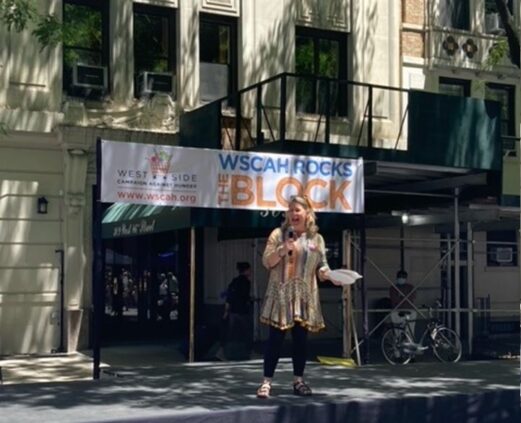 About WSCAH
The West Side Campaign Against Hunger is one of the largest food pantries in New York City. Serving New Yorkers for over 43 years, WSCAH provides food assistance, including a social services department that connects customers to programs like the Supplemental Nutrition Assistance Program and the Special Supplemental Nutrition Program for Women, Infants, and Children. Additionally, WSCAH advocates to improve the social services that impact the lives of their customers.
WSCAH Rocks the Block
We arrived early to 86th Street in Manhattan's Upper West Side to set up our advocacy table for WSCAH's 'Rocks the Block' alongside child care providers, youth sports and community advocates, and local restaurants who offered a taste of their specialties to the hundreds of attendees. At the start of the event — to the rocking music of a local DJ — volunteers packaged meals for WSCAH customers, and in just over six hours, nearly 1,000 volunteers at the event packed enough food for 20,000 meals.
After attendees packed meals, they joined us at our table to write and artfully design paper plate messages for their elected officials. Some took the plates as an opportunity to praise their legislators for championing anti-hunger initiatives in Congress, and as advocates do, asked they go further to increase access to federal nutrition programs for New Yorkers experiencing food insecurity. Others drew pictures to describe the impact of hunger on their communities The child nutrition waivers, which increased food access in schools and child care centers during the pandemic, were set to expire, when this event occurred. Advocates of all ages filled out more than 150 plates with messages urging Senate Majority Leader Schumer and Sen. Gillibrand to move legislation to extend the child nutrition waivers and other provisions to enhance and expand the child nutrition programs.
Lead Your Own Paper Plate Advocacy Campaign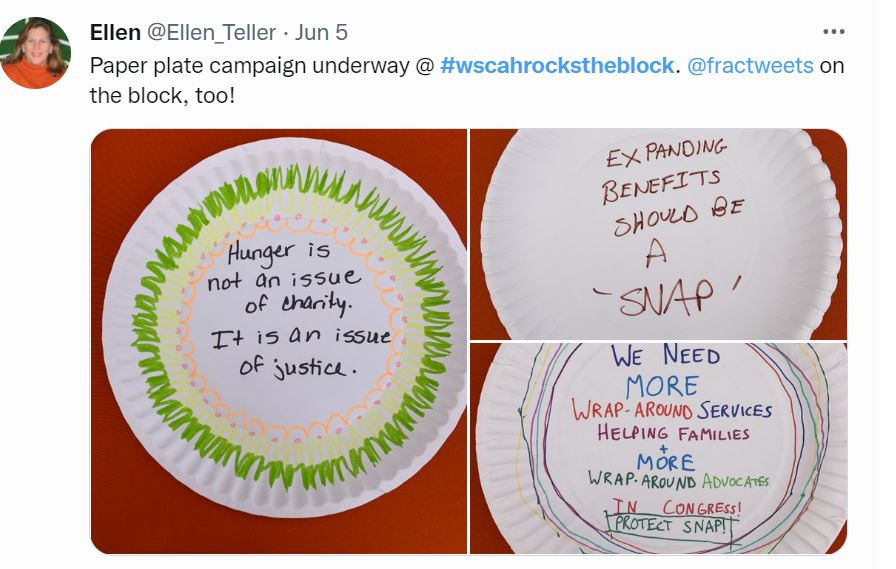 A paper plate campaign is a great way to generate interest and engagement in anti-hunger advocacy. Simple yet symbolic, a paper plate campaign provides an interactive way for event attendees to put their own spin on messaging, while allowing kids an artistic outlet (and parents a welcome breather). When presented with this advocacy option, event attendees come away energized — inspired that their actions and messages will make a difference.
Sharing this creative expression was yet another tool in our advocacy toolbox to provide elected officials with a tangible reminder of the importance of championing the federal nutrition programs in the fight against hunger. Immediately after the event, the staff at WSCAH dropped off the paper plates at the offices of Senators Schumer and Gillibrand.
All you need to pull off a successful paper plate campaign is a never-ending supply of paper plates and multicolored Sharpies. The event attendees can supply their own unique messages and artwork to create the ultimate advocacy opportunity.
Here's a checklist to ensure that your street advocacy paper plate campaign is a success:
tables and chairs (providing a place for people to sit down at your table not only offers attendees an opportunity to rest; it also makes your activities more accessible);
swag (branded swag to be handed out at no charge is a great way to get people to stop at your table; FRAC's drawstring bags went like hot cakes);
paper plates;
Sharpies or other markers (plus a few coffee cups to hold them); and
twine or fishing line and/or clothespins or hooks to display some model plates and to give attendees ideas for messages (to add decorative flair to your tent, use fishing line and hooks to string up finished paper plates).