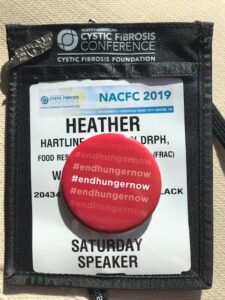 November 7, 2019
FRAC On the Move is a series that follows FRAC's policy and program experts as they connect with advocates across the country to develop solutions to end hunger.
In this installment, Dr. Heather Hartline-Grafton, FRAC's Senior Researcher in Nutrition Policy & Community Health, writes about presenting on food insecurity at the 2019 North American Cystic Fibrosis Conference in Nashville, Tennessee. The conference, hosted by the Cystic Fibrosis Foundation (CFF), brought together researchers, clinicians, and caregivers from around the world to discuss the latest advances in cystic fibrosis (CF) research, care, and treatment, and to exchange ideas about ways to improve the health and quality of life for people with CF.
It is well-established that food insecurity contributes to poor health, poor disease management, higher health care utilization, and increased health care costs. This is especially true for people with special health care needs, such as cystic fibrosis.
CF, which affects an estimated 30,000 people in the U.S., is a genetic disorder that causes persistent lung infections and over time limits the ability to breathe. The condition results in damage to the lungs as well as complications for the digestive system and other organs. People living with CF have complex medical needs requiring specialized care and treatment, including consuming a diet high in calories. Living with CF can be very expensive due to high out-of-pocket costs, which can further complicate and compound the challenges that patients and their families face.
I was invited by CFF to present at a North American Cystic Fibrosis Conference symposium focused on food insecurity. I've been working with CFF the past several months to strengthen their efforts around identifying and addressing food insecurity among patients living with cystic fibrosis. My presentation reviewed the latest data on food insecurity prevalence and risk factors; the connections between food insecurity and health; how health care providers can identify and address food insecurity in clinical settings; and why health care providers and patients should engage in advocacy to address food insecurity and its root causes. I also shared a number of FRAC resources on hunger and health and "screening and intervening," and best practices for improving access to SNAP for people with disabilities and capturing allowable medical expense deductions for SNAP.
Preliminary findings based on clinic and survey data presented by the other panelists indicate that food insecurity, as well as other health-related social risks, are a reality for far too many CF patients and their families. For example, many patients living with CF report difficulty paying for their medical care and food, often eating less because of resource constraints. Patients struggling with hunger report high rates of cost-related medication underuse (e.g., skipping or taking less medicine than prescribed), delaying health care visits due to cost, and otherwise altering how they utilize health care because of cost.
Panelists also shared that while several CF care centers are screening for food insecurity using the two-item Hunger Vital Sign tool or another screening tool, more screening is needed. Plus, there is evidence that those screening positive for food insecurity are reluctant to apply for federal nutrition programs due to stigma. While the latter was discouraging, the last presenter reviewed current efforts and progress to incorporate food insecurity into CF research and practice, with growing interest in systems- and policy-level change through advocacy.
For years now, the anti-hunger community has been educating and equipping the health care sector to address food insecurity by screening, connecting at-risk patients to the federal nutrition programs, and advocating for a strong nutrition safety net. While diet-related chronic diseases such as diabetes are often the focus of these conversations (as well as the current research literature), we must not forget about other patients with special and complex health care needs – including those with CF – who are facing difficult trade-offs between medicine, food, and other basic necessities. The CFF has local chapters and care centers that would benefit from the expertise of the anti-hunger community in supporting the food-related needs of patients living with CF and their families.