Heather Hartline-Grafton, Senior Nutrition Policy and Research Analyst at the Food Research & Action Center (FRAC), recently presented at the Root Cause Coalition's Second Annual National Summit on the Social Determinants of Health in Louisville, Kentucky.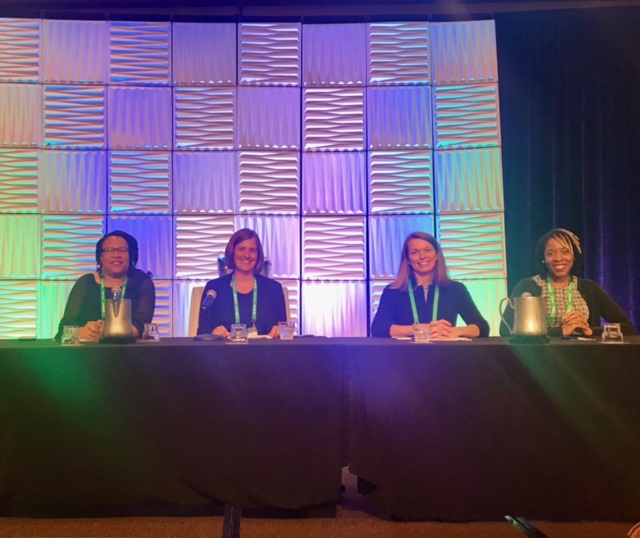 Tell us about this summit. What do you hope the audience took away from your presentation?
The summit provided an opportunity for FRAC to engage in the discussion of how to best address food insecurity through a health care lens, and how to engage the health care community in efforts to strengthen and protect the federal nutrition programs.
I presented on a plenary panel, "Addressing Food Insecurity Across the Lifespan: The Role of Medical Professional Organizations." The panelists — myself, a pediatrician representing the American Academy of Pediatrics (AAP), and a family doctor representing the American Academy of Family Physicians — shared how medical organizations and health care providers address food insecurity through research, policy, education, advocacy, and partnerships with anti-hunger groups.
Research shows that food insecurity is detrimental to health and well-being across the lifespan. My presentation focused on how the Supplemental Nutrition Assistance Program (SNAP) and child nutrition programs (school meals; afterschool and summer meals; the Special Supplemental Nutrition Program for Women Infants, and Children; and the Child and Adult Care Food Program) play a critical role in improving nutrition and health for children, adults, and older adults. The health care community is well-positioned to identify food insecurity and connect vulnerable patients to the federal nutrition programs.
Since I had the attention of so many key players in the health care sector, I took the opportunity to present key strategies that health care providers can pursue to advocate for the federal nutrition programs. I also highlighted FRAC and AAP's recent toolkit on addressing food insecurity among children, and gave a preview of our upcoming continuing education course with AARP Foundation on addressing food insecurity among adults 50 and older.
I hope my presentation provided conference attendees with insight into how we can all play a role in ending hunger.
What more can anti-hunger advocates do to help health care professionals address hunger?
Anti-hunger advocates have an important role to play in educating and equipping the health care community to screen for food insecurity in clinical settings, to connect at-risk patients to the federal nutrition programs, and to be champions for the programs. Through our advocacy, we can continue to demonstrate that the federal nutrition programs are effective at reducing poverty, reducing food insecurity, and improving health. These programs work, and current efforts in Congress to cut or restrict the programs, especially SNAP, will have truly devastating impacts on hunger and health for millions of Americans.
We need the health care community to send a clear and compelling message to policymakers: The federal nutrition programs are critical and successful programs that support health and well-being across the lifespan, and they must be strengthened and protected.
FRAC On the Move is a series in which we follow our policy and program experts as they connect with advocates across the country to explore strategies and develop solutions to end hunger. Follow #FRACOnTheMove on Twitter for our latest whereabouts.