Every few months, a news story will highlight a child denied a lunch in the cafeteria — sometimes forced to throw the meal away or given a cheese sandwich instead of the planned lunch menu items — because the child does not have money to pay.
Other districts will stamp a child's hand "I owe lunch money."
These scenarios have played out across the country, and are a badge of shame for students. Thanks to a groundbreaking bill passed last week, this shaming will never happen again in New Mexico
The state's Hunger-Free Students' Bill of Rights (SB 374) ensures that no child in the state is denied a meal if they do not have money in their lunch account or in hand when they are in the lunch line. New Mexico Appleseed and the New Mexico School Nutrition Association supported the legislation to protect students from stigma in the cafeteria and provide guidelines for school districts in the state to use to collect unpaid meal debt.
Among other provisions, the law requires that:
Schools serve students a meal that meets U.S. Department of Agriculture (USDA) guidelines regardless of whether the student has money to pay or owes money. Schools may not throw away a meal after it has been served to a student because the student does not have the money to pay or owes money.
If a student owes money for five or more meals, the school must take steps to certify the family for free or reduced-price meals if the family is eligible, including checking lists of categorically eligible children, making two attempts to provide an application to the family, and having a principal or counselor contact the family to offer assistance.
Schools may not identify or stigmatize children who cannot pay for a meal, including using stickers or hand stamps, or require them to do chores or work.
Several other states, including Texas and California, are considering similar bills that would address the stigma and embarrassment low-income students can face in the cafeteria when they do not have money to pay for a meal. In 2014, Minnesota passed legislation to provide state funding to eliminate the 40-cent fee for reduced-price school lunch and ensure that efforts to obtain payment of outstanding school meal debt do not stigmatize children.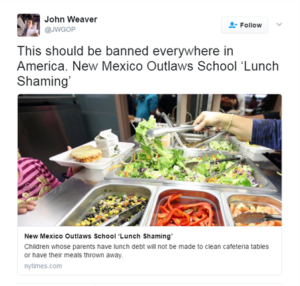 Why now?
The 2017–2018 school year will be the first school year that school districts participating in the National School Lunch or School Breakfast programs are required to establish policies and procedures to address the challenge of unpaid school meal fees.
The Healthy, Hunger-Free Kids Act of 2010 required the USDA to examine the issue. In response, USDA has issued guidance requiring schools to have a policy but it allows significant local discretion on the content of the policy.
States may also develop a policy for all school districts to follow or provide guidelines that school districts' policies must meet, while allowing for some local discretion.
USDA has developed a variety of resources on its Unpaid Meal Fees page to help school districts develop, disseminate, and implement an effective policy that protects access for children and families and supports school nutrition departments' bottom line.
What advocates can do:
talk to your state's child nutrition agency about adopting a statewide policy for all school districts that protects students from school lunch shaming and takes steps to link eligible families to free or reduced-price school meals. These are core components of a strong policy on unpaid school lunch fees;
consider passing state legislation if the state child nutrition agency cannot set a strong policy; and
ask your local school districts if schools currently have a policy for unpaid school meal fees and work with them to develop a policy or improve upon the policy already in place.
Questions about unpaid school meal fee policies? Contact Jessie Hewins at jhewins@frac.org