March 29, 2022
Have you heard the news? Ward 8 is getting two new grocery stores. But it's not because of the Mayor's Food Access Fund, the Nourish DC Fund, or any of the District's other interventions to increase grocery access. It's because the new redistricting map extends Ward 8 across the Anacostia River for the first time, and it includes both a Harris Teeter and a Whole Foods Market.
Redistricting occurs in the District every 10 years after the new Census data becomes available. The goal is to make the population of the wards more even. The 2020 Census found that more than 87,000 people had moved to Washington, D.C. in the past ten years, with Ward 6 experiencing the biggest population growth by 35.2 percent and Wards 7 and 8 both losing residents. The purpose of D.C. redistricting isn't Congressional representation but rather to give the wards equal power within the DC government.
By law, the population of each Ward:
Must be within plus or minus 5 percent of a set average,
Must be compact and contiguous, and
the new boundaries cannot purposefully dilute minority voting power.
Redistricting is always contentious, as it touches on neighborhood identity, racial identity, and the political power that comes with both. In this redistricting, Ward 7 needed to gain about 5,600 residents, and Ward 8 needed about 3,370. Additionally, almost half of the population growth was due to the addition of white residents moving into the District. The number of Black residents decreased 9.1 percent in the past decade.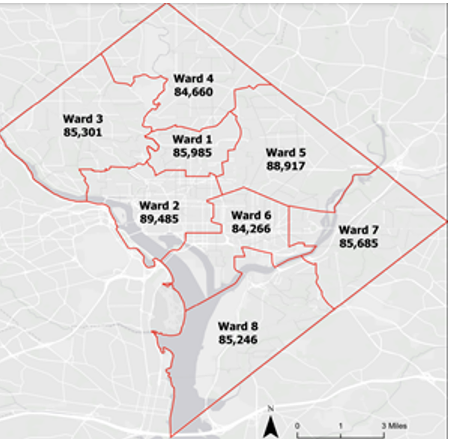 The redistricting results include some historic shifts, such as the addition of the high-income neighborhood of Navy Yard to Ward 8 and a portion of Capitol Hill to Ward 7. With the addition of these new neighborhoods comes a growing concern for residents of Wards 7 and 8; Will including new high-income neighborhoods into the ward change the resources available for lower-income residents?
Grocery store access is a key example. For over a decade, D.C. Hunger Solutions has reported about the grocery gap between high and low-income wards. Now, Ward 8 has gained two grocery stores overnight. However, these stores are still not accessible to the majority of Ward 8 residents. Not only are they logistically far from most residents because of their location north of the river, but Harris Teeter and Whole Foods are not within the budgets of most lower-income residents. Residents and advocates also fear that it will lull stores and officials into complacency, feeling less inclined to invest in the wards and depriving residents of the nutritional and economic benefits of more grocery stores.
As Beverley Wheeler, director of D.C. Hunger Solutions, recently said in an interview with Bisnow, "having grocery stores is critical in these neighborhoods because it's the best place for people to use their federal nutrition dollars, like SNAP and WIC. It's also the best way to build community."
Food insecurity does not exist solely in isolation. When there are numerous socio-structural determinants of health that prevent people from accessing nutritious food options, it is truly doing a disservice to the low-income Black and Brown communities who live east of the Anacostia River to alter borders without adequately addressing the needs of the community. Regardless of the justification for redistricting, the point still remains that all DC residents deserve to live within a comfortable distance to grocery stores that enable them to develop and practice healthy eating habits. Access to a car should not be a requirement for accessing groceries. Funds for public transportation or rideshares should not be a requirement for accessing groceries. Having the time to ride the bus for two hours should not be a requirement for accessing groceries. Downloading an expensive app should not be a requirement for accessing groceries.
Now, more than ever, there is a need to invest in food in low-income D.C. neighborhoods. Food costs rose by almost 7% in the last year, and over 144,000 D.C. residents are currently receiving SNAP benefits. Low-cost and nutritious food should be available in every D.C. neighborhood, regardless of which Ward they are in. We call on the Mayor and DC Council to re-commit to ending the grocery gap across all of D.C.