School breakfast participation tends to be lower in middle and high schools than in elementary schools, and as a result, fewer teens are benefiting from the improved educational and health outcomes linked to school breakfast. Barriers such as hectic morning schedules, late bus arrivals, and social stigma contribute to this trend.
To help principals increase school breakfast participation among teens, FRAC and the National Association of Secondary School Principals (NASSP) partnered to release the Secondary School Principals' Breakfast After the Bell Toolkit.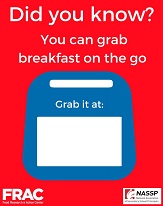 This resource assists middle and high school principals with implementing breakfast after the bell models, so that students can start their school day ready to learn. It includes tips for launching a successful breakfast after the bell program, sample outreach materials, and event planning resources. Everything is customizable to meet a school's unique needs.
Breakfast after the bell models — "grab and go," second chance, and breakfast in the classroom — overcome many of the barriers to school breakfast participation by making it more convenient for middle and high school students. These models provide principals with the option of offering breakfast from hallway kiosks or in the classroom after the start of the school day.
Read and share this valuable resource with a secondary school principal today.
For additional resources on improving access to school breakfast and implementing breakfast after the bell models, visit FRAC's school breakfast webpage.