February 17, 2022
In recognition of Black History Month, we want to highlight six public figures who advocate to eradicate hunger in America. Advocates include Members of Congress sponsoring and introducing legislation, as well as leaders in nonprofit advocacy organizations.
Legislative Champions in the Anti-Hunger and Anti-Poverty Arena

Representative Alma Adams (D-NC)
Representative Adams serves on the Committee on Financial Services, Committee on Education & Labor, and the Committee on Agriculture. In addition to being a member of the Congressional Hunger Caucus, Representative Adams is a co-founder of the Black Maternal Health Caucus and a co-chair of the Historically Black Colleges and Universities Caucus.
Prior to serving in Congress, she was a teacher and held elected office at the city and state levels. As a state legislator she spearheaded a state minimum wage increase.
Representative Hayes (CT) co-led with Representative Adams (NC-12) and U.S. Senator Gillibrand (D-NY) the introduction of the Closing the Meal Gap Act of 2021. The bill would base SNAP benefits on a more adequate food market basket and ease impossible choices families with children are forced to make between paying for food and shelter and that older Americans and people with disabilities must make between paying for food and medicine.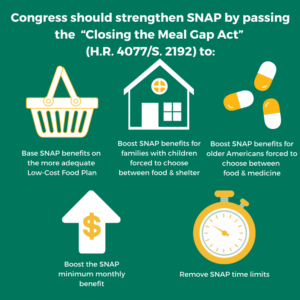 "Over 40 million Americans depend on SNAP for their meals, even though SNAP benefits are not generous enough to feed a family or prevent child hunger," said Rep. Adams, in a June 2021 press release. "The Closing the Meal Gap Act of 2021 will address this issue by strengthening the SNAP program for millions of people affected by COVID-19 as well as older Americans, people with disabilities, children, struggling parents, students, unemployed and underemployed people, and veterans.
Representative Jahana Hayes (D-CT)
Representative Hayes was the first African American woman and first African American Democrat to represent Connecticut when she was elected in November 2018.  Prior to serving in Congress, she was an educator for 15 years and was selected as the 2016 National Teacher of the Year. In this capacity, she traveled nationally and globally as an ambassador for public education.
She's currently on the Committee of Education & Labor and the Committee on Agriculture, where she is the chairwomen of the Subcommittee on Nutrition, Oversight and Department Operations.
Along with being one of the  co-sponsors of the Closing the Meal Gap Act (H.R. 4077/S.2192), she sponsors the bi-partisan Caregivers, Access, and Responsible Expansion (CARE) for Kids Act of 2021 (S.1590 / H.R. 3997), which is co-led by U. S. Representatives Don Bacon (R-NE), Deborah Ross (D-NC), and Senator Bob Casey (D-PA). This bill will help support children who are being raised by grandparents or relatives other than their parents by ensuring automatic access to free school meals.
She also introduced the Afterschool Meals Act in January 2022 with Representative Shontel Brown that provides meals to children in afterschool care seamlessly through the National School Lunch Program.
"Hungry children do not learn. Whether it is before, during, or after school, kids need nutritious meals to thrive," said Rep. Hayes in a press release regarding the Afterschool Meals Act.  "Better access to these nutritious meals means improved classroom engagement, at-home productivity, [and] interest in activities."
Representative  Shontel M. Brown (D-Ohio)
Representative Brown was sworn in in November 2021. In the short time she's been in Congress, she has already worked to both "strengthen the public education system, improve the health of children and their families, and ensure no American goes hungry (Brown, 2022)."
She serves on the House Agriculture Subcommittee on Nutrition, Oversight, and Department Operations and in the Congressional Black Caucus. Prior to serving in Congress, she was a city council and county council member in Ohio since 2012, as a well as marketing professional and small business owner prior to 2012.
Last month, she introduced the Afterschool Meals Act with Representative Hayes.
"Increasing access to afterschool meals is a critical way to close the hunger gap many children face between lunch at school one day and breakfast the next," said Representative Brown in a press release. "The Afterschool Meals Act would allow schools to provide healthy meals during afterschool programs to students already served by the National School Lunch Program. I am proud to partner with Congresswoman Hayes to introduce this common-sense legislation to reduce hunger among vulnerable students and allow them to better engage in afterschool programs."
Representative Ilhan Omar  (D-MN)
Representative Omar, a Somali American, is the first African refugee to become a Member of Congress, the first woman of color to represent Minnesota, and one of the first two Muslim-American women elected to Congress.
She introduced and co-sponsors the Universal School Meals Act of 2021 (S. 1530 / H.R. 3115), along with Senator Bernie Sanders (I-VT), Senator Kirsten Gillibrand (D-NY) and Representative Gwen Moore (D-WI). This legislation would ensure that every child has access to free nutritious meals at school, after school, during the summer, and at childcare through the child nutrition programs.
"No child in the richest country in the world should face hunger," said Rep. Omar in a May 2021 press release. "One in six children in my state of Minnesota don't know where their next meal will come from. Families across Minnesota and nationwide are still struggling from the fallout of the pandemic, and children are often bearing the brunt of this crisis. I am proud to partner with my colleagues to implement an universal school meals program to ensure all of our children have the nutrition they need to succeed."
On the Ground: Fighting Hunger in the Field
Kim Perry Founding director of D.C. Hunger Solutions and current executive director of DC Action.
Kim Perry is a former teacher turned advocate. She was the founding director of D.C. Hunger Solutions, which is celebrating its 20th anniversary this year! D.C. Hunger Solutions is an initiative of FRAC that works to create a hunger free community and improve the nutrition, health, economic security, and well-being of low-income District residents.
Throughout Perry's extensive career, she has served as the Vice President of the Clinton Foundation's and the Executive Director of D.C. Vote.
Anti-hunger is always at the forefront of her work. She serves on the Board of Directors of the Congressional Hunger Center, where many of FRAC's Emerson Fellows have been inspired to advocating for anti-hunger and anti-poverty programs.
Perry is currently the executive director of DC Action, where she has set a "vision to achieve race equity in child policy" (DC Action, 2022).
Kim Johnson, President/CEO , Florida Impact
For over 30 years, Kim has worked to help underserved communities in central Florida to help improve the lives of children and their families. She returned to Florida Impact last year as the new President/CEO.
Florida Impact's mission is to "advance health equity by ending hunger for all Floridians. [They] mobilize communities to maximize access to federal, state, and local food and nutrition programs with a focus on Florida's most vulnerable populations. (Florida Impact, 2022)"
Johnson had previously served as a member of Florida Impact's board for two years and as a program coordinator for seven years. She also worked for Orange County Public Schools Food and Nutrition Services as their grants, nutrition, education, and community programs manager.