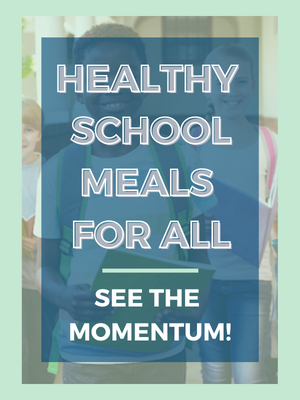 National School Breakfast Week (NSBW) is a weeklong celebration from March 6–10 of the federal School Breakfast Program, which provides students with a nutritious meal to start their school day.
Celebration activities during NSBW can raise awareness about the healthy breakfasts served at school, increase student participation, offer a platform to share successful implementation strategies, and attract media coverage.
Join FRAC every day during National School Breakfast Week for opportunities:
Menu of Activities During National
School Breakfast Week
Join FRAC every day for activities to increase awareness of school breakfast and the champions that make it work.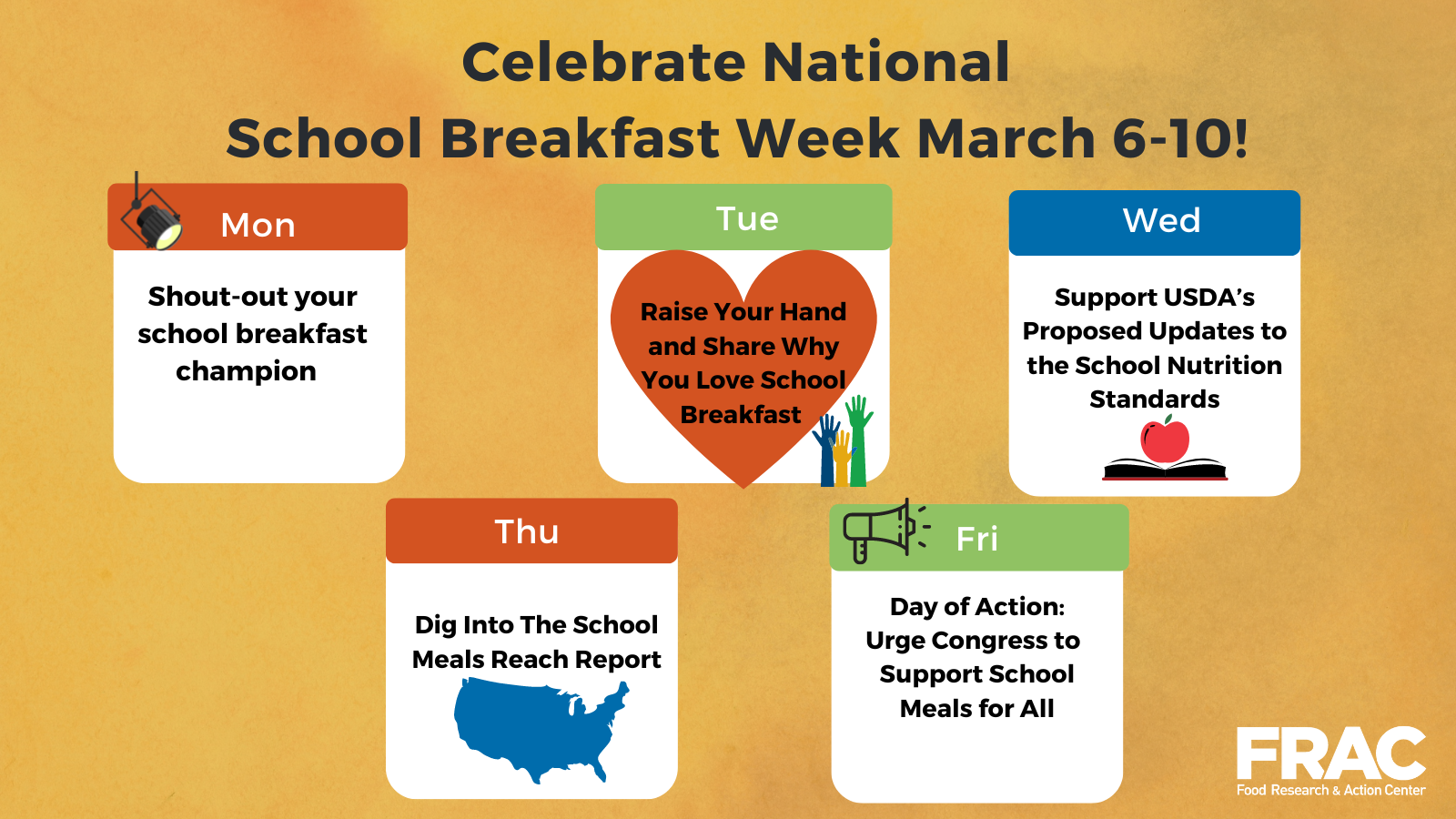 1. Monday, March 6: Shout-out a School Breakfast Champion!
Is there a school nutrition director in your community making a difference? Celebrate these champions by tagging them on Twitter and Instagram, and sharing how they go above and beyond to increase the reach of school breakfast. Don't forget to tag @fractweets on Twitter and @fracgram on Instagram as well so that your message can be amplified!   
2. Tuesday, March 7: Share why you support Healthy School Meals for All today!  Show your love for Healthy School Meals for All by taking a picture of you raising your hand for #SchoolMeals4All and tag your State Representatives and Members of Congress. Be sure to tag @fractweets on Twitter and @fracgram on Instagram so that your message can be retweeted. 
3. Wednesday, March 8: Support USDA's Proposed Updates to the School Nutrition Standards.
Join FRAC in showing support for USDA's "Proposed Updates to School Nutrition Standards", which better align nutrition requirements to the Dietary Guidelines for Americans and improve the nutrient intake of millions of children across the country. Click here to quickly and easily send USDA a model comment letter supporting the proposed nutrition standards.  

4. Thursday, March 9: Dig Into FRAC's School Meals Report. 
Explore FRAC's soon-to-be released report, "The Reach of School Breakfast and School Lunch During the 2021-2022 School Year" to see how breakfast stacks up in your state. Share your state's reach on social media and tag @fractweets on Twitter and @fracgram on Instagram.   
5. Friday, March 10: Increase Breakfast Access in Your School. 
More students eat when breakfast is part of the school day. Contact your district's food and nutrition department to find out how you can help ensure breakfast is served after the bell. Urge members of congress and state legislators to support #SchoolMeals4All.   
---
Below are resources to help make NSBW a success in your district.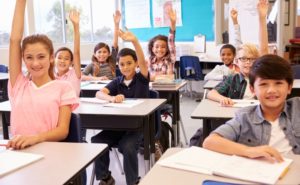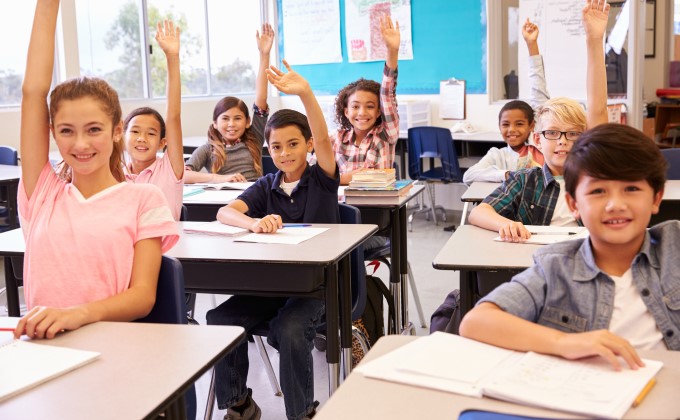 Resources for NSBW
FRAC Research
FRAC's Annual School Breakfast Reports and Communications Toolkit