Research supports what educators and school officials see every day in our nation's schools: a well-nourished child who starts the day with breakfast is more likely to be at school, a better learner, and willing to participate in the classroom.
For too many families, there are obstacles to providing a healthy morning meal each day. Tight budgets for low-income families and busy morning schedules can mean that many students arrive at school hungry and not ready to learn. Fortunately, the School Breakfast Program plays a critical role in filling this void for millions of low-income children every school day.
Find out more…
The Many Benefits of School Breakfast
Improved Academic Performance

Making sure every child has eaten a healthy breakfast is an important but often overlooked tool to boost academic performance:

Children who skip breakfast are less able to master the tasks necessary to do well in school.
Children who eat breakfast at school — closer to class and test-taking time — perform better on standardized tests than those who skip breakfast or eat breakfast at home.
Children who live in families that experience hunger have lower math scores and an increased likelihood of repeating a grade, and receive more special education services.

Reduced Behavioral Problems

Children who have eaten breakfast at school are less likely to cause distractions due to behavioral and disciplinary issues:

Teenagers experiencing hunger are more likely to be suspended from school, and to have difficulty getting along with other children and establishing friendships.
Students who participate in school breakfast exhibit decreased behavioral and psychological problems and have lower rates of absence and tardiness.
Providing students with breakfast in the classroom is associated with fewer disciplinary office referrals.

Improved Children's Diets

Breakfasts served as part of the School Breakfast Program provide key nutrients children need every day — and updated nutrition requirements established under the Healthy, Hunger-Free Kids Act of 2010 have amplified these benefits:

All meals meet nutrition guidelines that limit sodium and saturated fats and eliminate trans fats.
Children who participate in school breakfast are more likely to consume diets that are adequate or exceed standards for important vitamins and minerals than those who do not eat school breakfast or who have breakfast at home.
Children and adolescents who eat breakfast (and school breakfast) are significantly less likely to be overweight, while skipping breakfast is associated with a higher risk of obesity.
School breakfast also helps build lifelong healthy eating habits.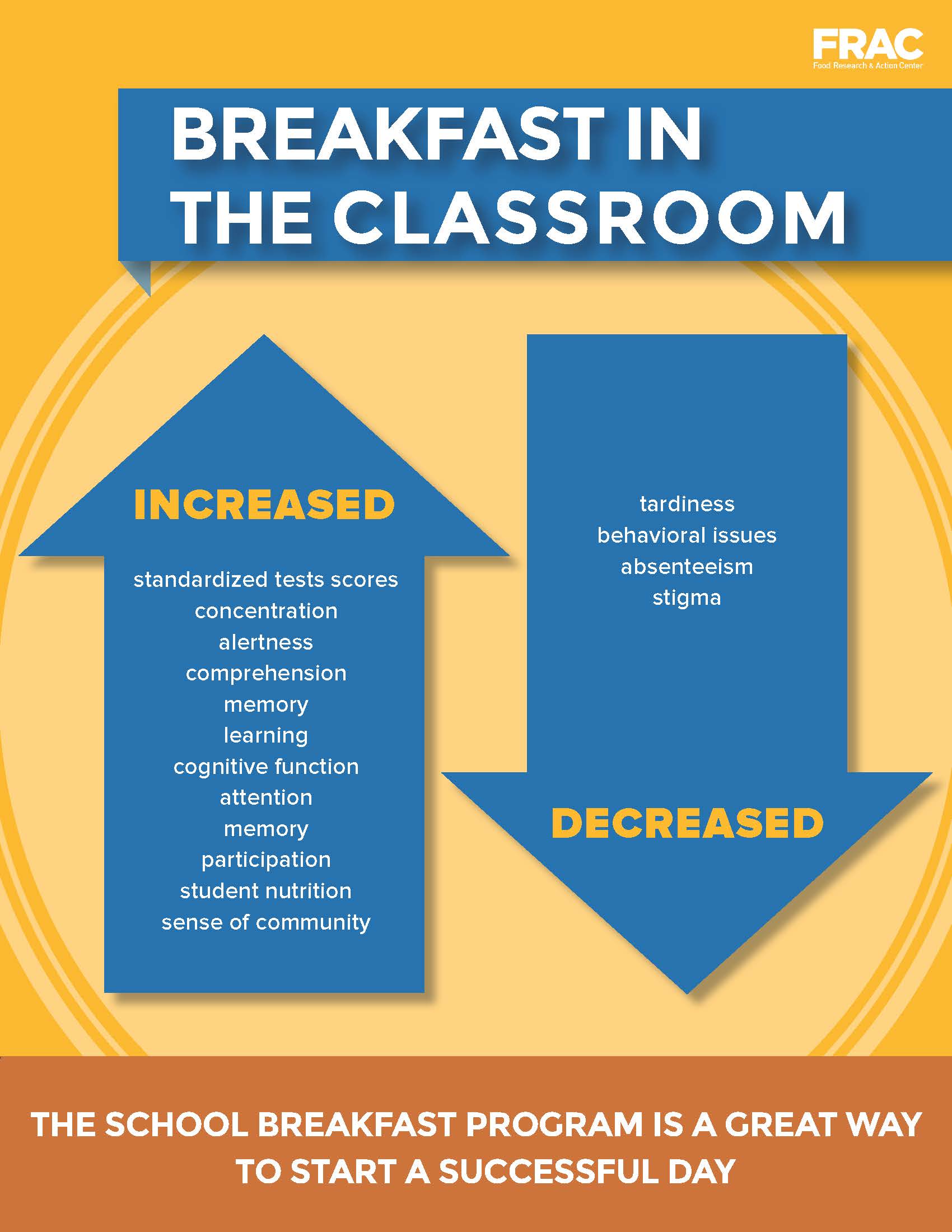 School Breakfast Benefits Infographic
Share our infographic on the benefits of school breakfast.