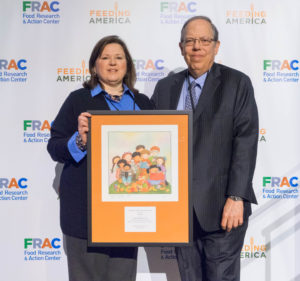 WASHINGTON, February 27, 2018 – The Food Research & Action Center (FRAC) awarded the Dr. Raymond Wheeler/Senator Paul Wellstone Anti-Hunger Advocacy Leadership Award to Hunger Solutions New York and its executive director, Linda Bopp. The award was presented during the Monday plenary session of the 2018 National Anti-Hunger Policy Conference, held in Washington, D.C. on February 25 – 27. The conference brought together over 1,000 anti-hunger advocates, program providers, and policymakers from across the country for three days of networking and training to help attendees better fight hunger in their communities.
The Dr. Raymond Wheeler/Senator Paul Wellstone Anti-Hunger Advocacy Leadership Award is awarded each year by FRAC to a group and its leadership who have demonstrated outstanding leadership in the fight against hunger in America.
"Not only has Hunger Solutions New York's work created positive change across New York, the organization and Linda also serve as role models for anti-hunger advocates throughout the nation," said Jim Weill, president, Food Research & Action Center. "She and the dedicated staff at Hunger Solutions New York are helping to build a stronger anti-hunger and anti-poverty movement, and FRAC is proud to partner with them in the fight to end hunger."
For more than 29 years, Hunger Solutions New York has advocated at the federal, state, and local levels for policies that reduce hunger by increasing access to nutrition assistance programs for low-income New Yorkers. In Linda's 11 years as executive director, her tireless efforts to protect and strengthen these programs have made her a national leader in the anti-hunger movement.
The federal nutrition programs —including the Supplemental Nutrition Assistance Program (SNAP); The Special Supplemental Nutrition Program for Women, Infants, and Children (WIC), the Child and Adult Care Food Program; school breakfast and lunch; and afterschool and summer meals — reduce hunger and poverty, improve health and learning, increase productivity, create jobs, and strengthen our communities. Without these programs and strong advocates like Hunger Solutions New York and Linda Bopp, hunger in the U.S. would be far, far worse.
###
About the Dr. Raymond Wheeler/ Senator Paul Wellstone Anti-Hunger Advocacy Leadership Award
Dr. Raymond Wheeler, an eminent Southern physician, fought throughout his life against hunger, poverty and injustice. His findings led to the publication of Hunger USA and a prime-time CBS documentary, "Hunger in America." Dr. Wheeler's efforts, both in North Carolina and on Capitol Hill, led to widespread recognition of hunger as a problem throughout America and to the expansion of the Food Stamp Program in the late 1960s. In recognition of his central role in fighting hunger through public policy, FRAC named this award after Dr. Wheeler in the 1980s.
The late Senator Paul Wellstone focused much of his extraordinary energy and commitment on eradicating hunger and poverty in America. Wellstone challenged the nation to stand up for children and challenged his colleagues to reject the stereotyping and misinformation about poor, hungry people in America. In recognition of Senator Wellstone's passionate, eloquent and steadfast championing of the needs of poor people in this country, FRAC named this award after him as well as Dr. Wheeler.