Media Contact:
Emily Pickren
epickren@frac.org
202-640-1118
WASHINGTON, June 8, 2017 — The Food Research & Action Center (FRAC) held its 27th Annual Benefit Dinner on June 7 in Washington D.C. This year's dinner focused on the strengths of the Supplemental Nutrition Assistance Program (SNAP, formerly known as food stamps) in reducing hunger and poverty and improving health, academic, and economic outcomes for millions of Americans.
FRAC honored Senator Patty Murray (D-WA), Rep. Barbara Lee (D-CA), Sherry Brennan, senior television executive, and Hunger Solutions Minnesota for their leadership and achievements in the fight against hunger.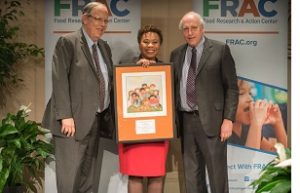 Senator Murray, Rep. Lee, and Sherry Brennan received FRAC's 2017 Distinguished Service Award for their commitment to giving back to their communities and their advocacy around protecting and strengthening federal anti-hunger and anti-poverty programs. Each of them has benefitted from SNAP at key points in their lives.
Senator Murray is the first female Senator from Washington State, and Rep. Lee is the first woman to represent California's 13th district (formerly the 9th district, where she was also the first female representative). These two trailblazing Members of Congress know firsthand the difference that SNAP can make in the lives of struggling and hungry Americans.
After her father was diagnosed with multiple sclerosis and could no longer work, Senator Murray's family relied on SNAP for a number of months to help them get back on their feet. Rep. Lee received SNAP as a young single mother of two attending college.
Sherry Brennan also received FRAC's 2017 Distinguished Service Award. Brennan, currently a vice-president for Fox Networks, benefitted from a number of forms of public assistance as a child, including SNAP, WIC, and free school meals. Since 2015, she has advocated for continued federal funding of the federal nutrition programs, which kept her from going hungry as a child and helped her climb the economic ladder out of poverty.
Hunger Solutions Minnesota received FRAC's 2017 National Award for Innovative Anti-Hunger Work for its efforts to advance public policy and grassroots advocacy on behalf of Minnesotans struggling against hunger. Hunger Solutions Minnesota has made SNAP more accessible to many Minnesotans, particularly eligible seniors. For example, through its SNAP Rx program, Hunger Solutions Minnesota connects food insecure Minnesotans with assistance in applying for federal nutrition programs.
The Food Research & Action Center welcomed over 300 guests to this year's event. Speakers included Jim Weill, president of FRAC; Judith H. Whittlesey, chair of FRAC's Board of Directors and executive vice president of Susan Davis International, and Dan Glickman, former U.S. Representative (D-KS) and Secretary of Agriculture who currently serves as the vice president of the Aspen Institute and is a member of FRAC's Board of Directors.
The dinner benefits FRAC's Campaign to End Childhood Hunger, which began in 1991 and has achieved large gains in feeding children in communities across the U.S. The campaign plays a key role in expanding the availability of SNAP, school meals, afterschool and summer meals, WIC, and the Child and Adult Care Food Program.
###
The Food Research & Action Center is the leading national nonprofit organization working to eradicate poverty-related hunger and undernutrition in the United States.