Media Contacts:
Food Research & Action Center
Emily Pickren
202-640-1118
epickren@frac.org
Tyson Foods
Derek Burleson
479-290-6466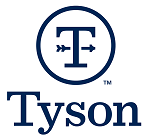 derek.burleson@tyson.com
WASHINGTON, November 28, 2017 — The Food Research & Action Center (FRAC) today announced it has received a $125,000 grant from Tyson Foods to combat child hunger by expanding the reach of school meals and afterschool meals to children living in targeted high-poverty areas in four states. Nationally, 16.5 percent of households with children experienced food insecurity, or limited or uncertain access to enough food, in the last year.
"Tyson Foods shares FRAC's commitment to ending childhood hunger in this country," said Jim Weill, president, FRAC. "Their generous support will ensure more children have access to the nutrition they need for their health and learning."
FRAC will partner with at least eight school districts in Arkansas, Iowa, Mississippi, and Texas to increase participation in the federally funded school breakfast, school lunch, and afterschool meal programs. To ensure more children access school meals, FRAC will work with school districts to adopt community eligibility, a provision that allows high-poverty schools to offer meals at no charge to all students. Community eligibility reduces red tape and administrative costs, and bolsters anti-hunger and healthy eating efforts.
"Community eligibility is a win-win for schools and students," added Weill. "It eliminates the stigma that school meals are only for low-income students, and makes it easier for schools to implement model programs, such as breakfast in the classroom, which further boosts participation."
Community eligibility was introduced nationwide in the 2014–2015 school year, and more than 20,000 eligible schools are now participating.
Through the grant, FRAC also will assist school districts in implementing afterschool meal programs at schools and community organizations. Nearly all high-poverty schools that are eligible for community eligibility also are eligible to receive federal funding for afterschool meals. Afterschool meals help draw children into afterschool programs, which provide education and enrichment activities in a safe environment where children can learn and play while their parents are at work.
"We're proud to partner with FRAC in building a healthier and brighter future for our nation's children," said Debra Vernon, senior director of corporate social responsibility, Tyson Foods. "This investment is part of our commitment to provide $50 million in cash and product donations by 2020 to fight hunger."
For more information about school meals, afterschool meals, and community eligibility, visit FRAC.org.
###
About the Food Research & Action Center
The Food Research & Action Center is the leading national nonprofit organization working to improve public policies and public-private partnerships with the aim of eradicating poverty-related hunger and undernutrition in the United States. FRAC works with a broad range of national and state partners to protect and strengthen the federal nutrition programs and ensure a strong and effective national nutrition safety net for vulnerable, low-income individuals and families.
About Tyson Foods
Tyson Foods Inc. (NYSE: TSN) is one of the world's largest food companies and a recognized leader in protein. Founded in 1935 by John W. Tyson and grown under three generations of family leadership, the company has a broad portfolio of products and brands like Tyson®, Jimmy Dean®, Hillshire Farm®, Ball Park®, Wright®, Aidells®, ibp® and State Fair®. Tyson Foods innovates continually to make protein more sustainable, tailor food for everywhere it's available and raise the world's expectations for how much good food can do. Headquartered in Springdale, Arkansas, the company has 122,000 team members. Through its Core Values, Tyson Foods strives to operate with integrity, create value for its shareholders, customers, communities and team members and serve as a steward of the animals, land and environment entrusted to it. Visit www.tysonfoods.com.