Overview
Last updated: November 29, 2022
Food insufficiency, which means sometimes or often not having enough to eat, has increased during the COVID-19 pandemic. Certain populations are experiencing higher levels of food insufficiency as a result of systemic inequalities that pre-date the pandemic.
FRAC's Food Insufficiency During COVID-19 Dashboard includes
Summary Points

According to data from the Census

Household Pulse Survey data

, rates of food insufficiency ("sometimes" or "often" not having enough to eat) decreased slightly in November to 11.0 percent compared to 11.4 percent in October and 11.5 in September 2022.





Rates have been steadily increasing over the past year, from a low of 7.8 percent in August 2021 to a high of 11.9 in July 2022. Since July, rates have slowly decreased.

Breakdown by race/ethnicity:

In the last month, food insufficiency rates decreased among Black adults (from 19.6 to 16.9 percent) as well as for Latinx adults (from 18.2 to 16.2 percent). However, rates of food insecurity continue to be twice as high for Black and Latinx adults compared to White adults.

Higher rates of food insufficiency in Black and Latinx communities are due to systemic racism that results in higher levels of poverty, disinvestment in access to healthy foods or quality education, wage discrimination, and other root causes of hunger.


Breakdown by family type: Food insufficiency rates among households with children also decreased slightly (13.7 percent in November compared to 14.1 percent in October).

Breakdown by gender identity and sexual orientation: In November, 12.0 percent of women reported food insufficiency compared to 10.1 percent of men.

Food insufficiency rates are higher for transgender individuals (27.4 percent, compared to about 10.5 percent of cisgender respondents). Overall, food insufficiency rates were 14.6 percent among those who identified as LGBT, 10.1 percent among those who did not identify as LGBT, and 19.2 percent among those who identified ass another sexual orientation (e.g., intersex, asexual). 

A limitation of these data is the small sample size with each data release, which results in estimates that fluctuate frequently. However, the

data consistently show disparities

for respondents identifying as transgender or LGBT.

Reasons

include discrimination that lead to fewer employment opportunities and higher levels of poverty.

Context to Explain Persistently High Food Insufficiency

Economic Context:

Increases in the price of

most goods

, including food, rent, and medical care, putting pressure on household budgets and the risk for food insufficiency. From October 2021 to October 2022, the cost of food from the grocery store rose 12.4 percent. The U.S. Department of Agriculture expects grocery store food prices to

continue to increase

through the end of the year, estimating a total increase of 11-12 percent in 2022.

Of the respondents in the Pulse survey who reported food insufficiency i

n November, 84

percent indicated that it was because they "couldn't afford to buy more food." 

In addition, 40 percent of respondents reported finding it "somewhat" or "very" difficult to pay for usual household expenses, which is higher than the rate of financial hardship was in January 2021.

Key Takeaways

Rates o

f food insufficiency remain higher than at almost any other time during the pandemic, with the exception of higher rates from Oct through Dec of 2020.

Twice as many Black and Latino households report food insufficiency than White adults due to persistent barriers resulting from structural racism.

To ensure an equitable recovery, the Public Health Emergency, which was recently extended through January 11, 2023 (and with it,

emergency allotments through SNAP

), should not be ended too early and leave behind those who are still struggling to put food on the table. See FRAC's

Action Center

for bills we're supporting and how you can get involved.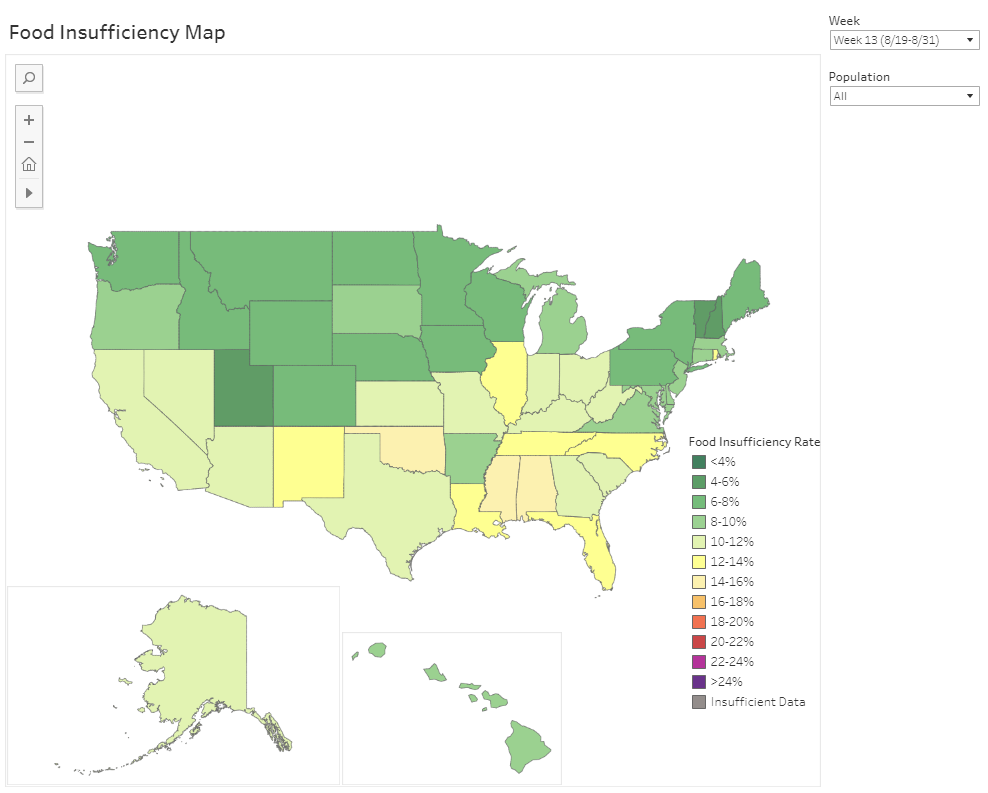 Mapping Food Insufficiency
The map shows the average rate of food insufficiency, which means sometimes or often not having enough to eat, in the previous seven days. Food insufficiency rates are calculated from the Census Household Pulse Survey data.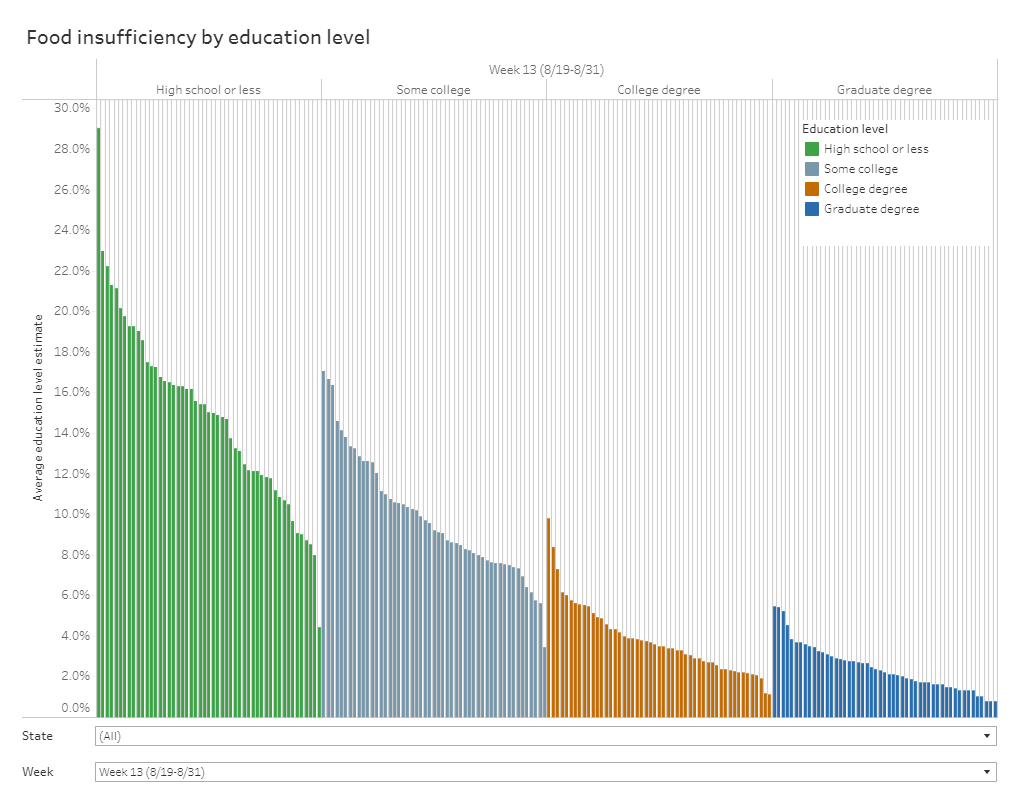 Comparing States
The bar graphs show the average rate of food insufficiency, which means sometimes or often not having enough to eat, in the previous seven days. Food insufficiency rates are calculated from the Census Household Pulse Survey data.
Impact of COVID-19 on Special Populations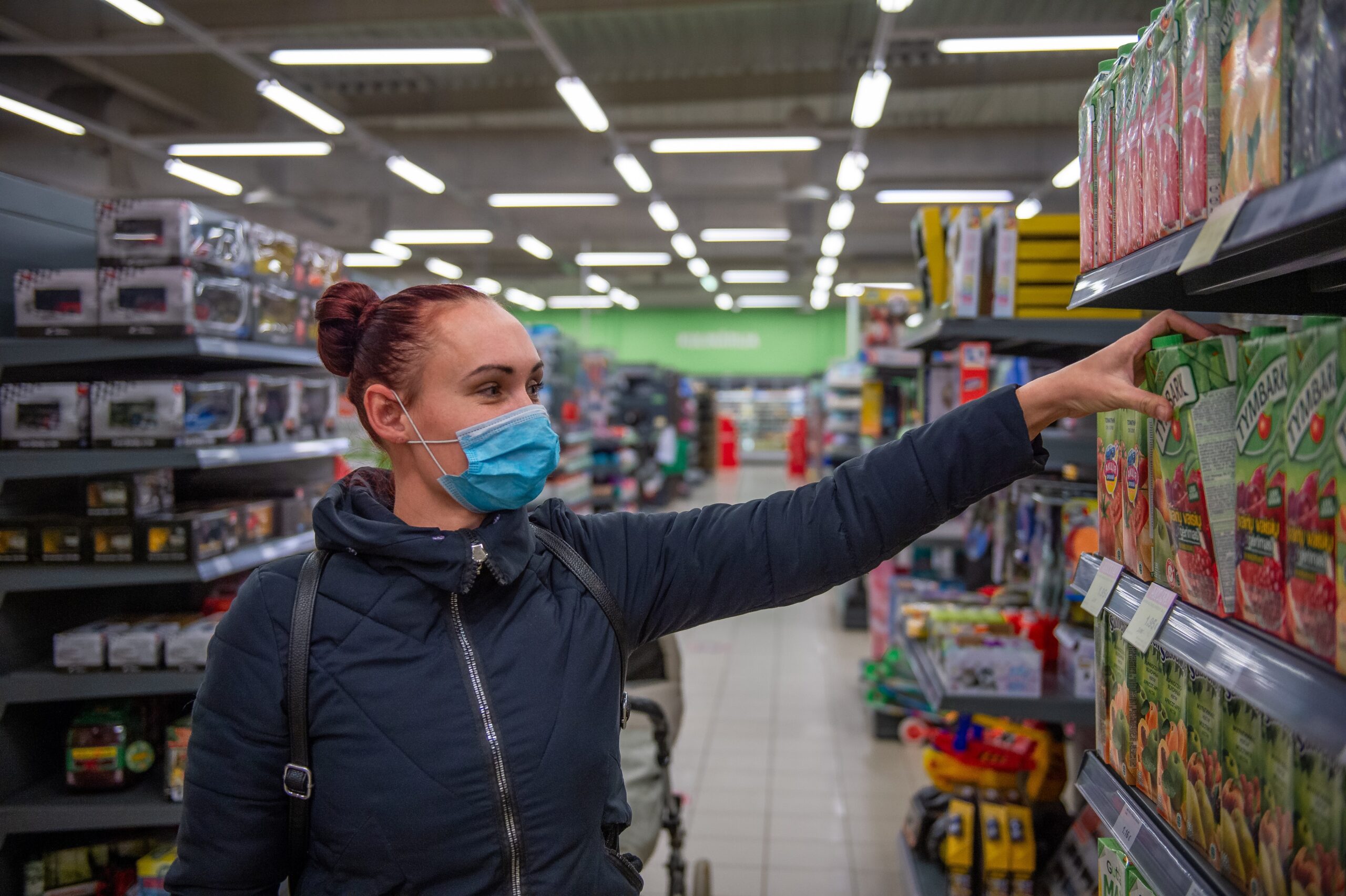 Hunger, Poverty, and Health Disparities During COVID-19 and the Federal Nutrition Programs' Role in an Equitable Recovery
The health and economic crises brought on by the COVID-19 pandemic has made the federal nutrition programs more important than ever. FRAC's latest report is a review of new research on how the federal nutrition programs reduce hunger, poverty, and health, including their efficacy during the pandemic, and concludes with policy recommendations to leverage the federal nutrition programs for a robust and equitable recovery.