March 9, 2022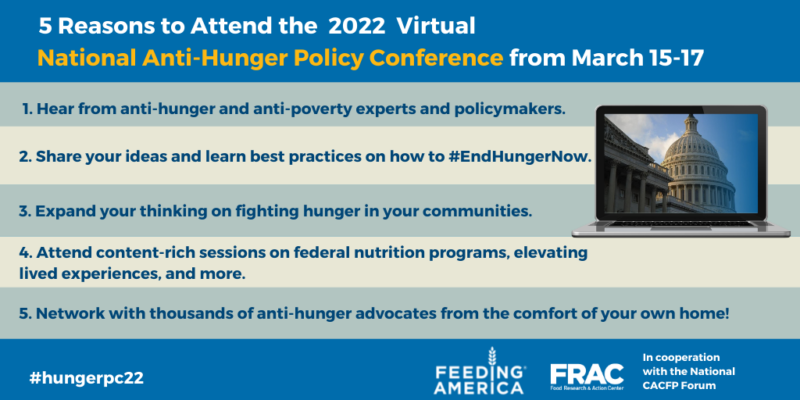 From March 15-17, anti-hunger advocates from around the country will virtually join the National Anti-Hunger Policy Conference (AHPC) to share and learn best practices to eradicate hunger in America. The conference is co-sponsored by FRAC and Feeding America, in cooperation with the National CACFP Forum.
Haven't registered yet? Registration is still open. See below for what you can expect from this annual, "can't miss" event.
Learn From the Best on How We Can Fight Hunger in the U.S.
For the first time, the AHPC planning team launched a request for proposals process to select a number of sessions from a diverse field of new and familiar anti-hunger voices from across the country to highlight innovative and impactful policy and advocacy strategies for addressing hunger and its inequities.
Workshops for this year's conferences will focus on several broad themes, including reflecting on lessons learned on the critical role of federal nutrition programs during the pandemic, addressing root causes of hunger and inequities in America, and creating a movement to end hunger. Explore the full agenda.
Hear From Leaders in Our Government
Don't miss the Opening Plenary at the 2022 virtual National Anti-Hunger Policy Conference, next Tuesday, March 15 at 11:30 a.m. Eastern.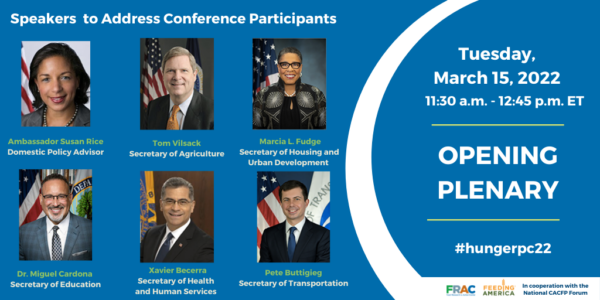 Ambassador Susan Rice, Domestic Policy Advisor, Secretary of Agriculture Tom Vilsack, Secretary of Housing and Urban Development Marcia Fudge, Secretary of Education Miguel Cardona, Secretary of Health and Human Services Xavier Becerra, and Secretary of Transportation Pete Buttigieg will address attendees of the conference.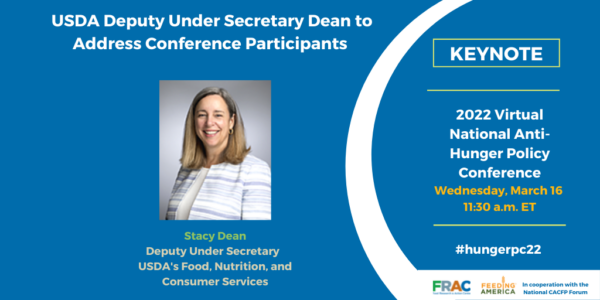 Stacy Dean, Deputy Under Secretary for USDA's Food, Nutrition, and Consumer Services will address attendees on Wednesday, March 16 at 11:30 a.m. Eastern, and engage in a Q&A session with FRAC President, Luis Guardia.
Advocate for the Anti-hunger Solutions Our Communities Need
The 2022 AHPC Virtual Lobby Day will kick off on March 17. Attendees will have the opportunity to schedule virtual meetings with their Members of Congress and staff and advocate for policy priorities that will move the needle on hunger in the United States. detailed throughout the conference. Some state groups may choose to schedule additional meetings in the days following the conference. Start making your Capitol Hill appointments!
Be sure to check out Tips for Lobby Day and  share FRAC and Feeding America's "Leave Behinds," one pagers outlining our legislative asks with your Members of Congress and their staff.
Registration is still open!
Haven't registered yet? Register today!
Are you registered? Share that you are joining AHPC on Twitter:
Join me at the 2022 Virtual National Anti-Hunger Policy Conference on March 15-17 sponsored by @hunger and @fractweets, in cooperation with @CACFPForum. Check out the speakers and sessions. https://bit.ly/3r7d0GP #hungerpc22