December 18, 2018
During the holidays and all year long, millions of individuals and families who struggle against hunger are able to access healthy food with support from the federal nutrition programs. To celebrate the nation's nutrition safety net, FRAC is releasing a seven-part "Remember This December" series that will highlight the impact of seven important federal nutrition programs.
This is the fourth installment of the series, which focuses on summer meals. Read the previous installment on the Supplemental Nutrition Assistance Program (SNAP).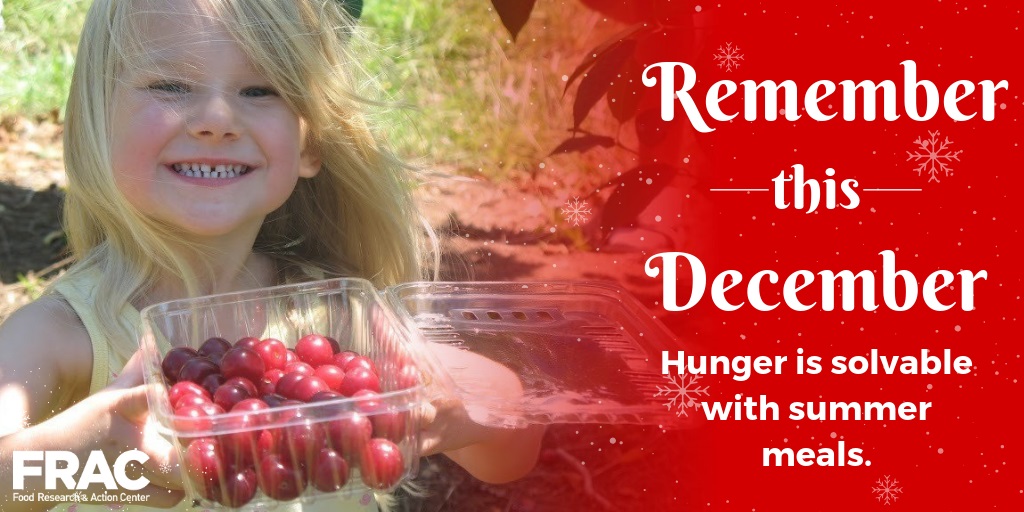 Hunger doesn't take a vacation. Once the school year ends, millions of students worry about where their next meal will come from instead of enjoying their summer break. The Summer Nutrition Programs provide meals and snacks that take the place of school breakfast and school lunch, helping to ensure that children do not face a nutrition gap once they no longer have access to school meals. Dive into the key facts below about summer meals:
Learn more about summer meals at FRAC.org, and share our "Remember This December" summer meals graphic.
Click to tweet: #RememberThisDecember that hunger is solvable with the federal nutrition programs, including Summer Nutrition Programs! Learn more about how summer meals support child learning and health w/ @fractweets latest blog: http://bit.ly/2ED2b9w
Watch our video on the importance of the federal nutrition programs.