December 21, 2018
During the holidays and all year long, millions of individuals and families who struggle against hunger are able to access healthy food with support from the federal nutrition programs. To celebrate the nation's nutrition safety net, FRAC is releasing a seven-part "Remember This December" series that will highlight the impact of seven important federal nutrition programs.
This is the seventh installment of the series, which focuses on school lunch. Read the previous installment on school breakfast.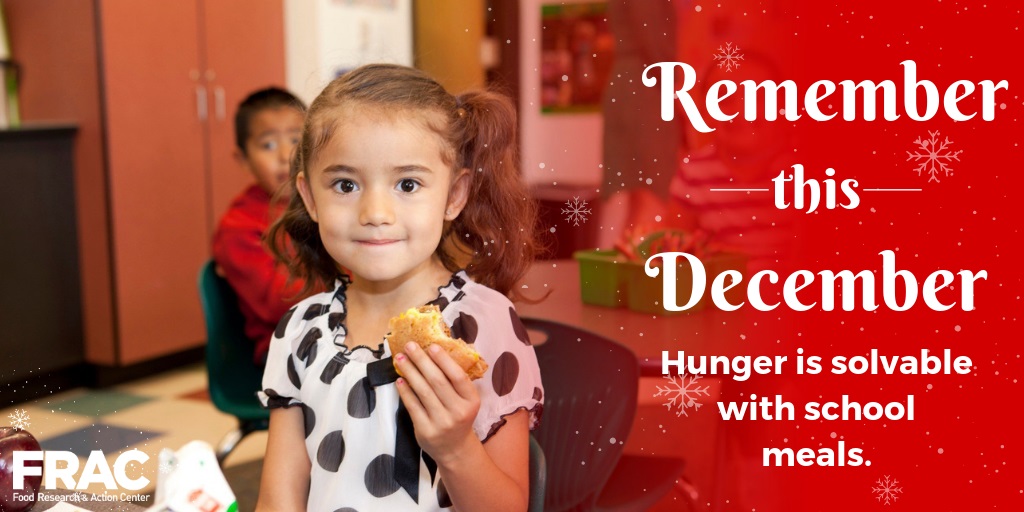 In FRAC's most recent How Hungry is America? report, the national food hardship rate for households with children was found to be approximately one-third higher than the rate for households without children. Fortunately, millions of children across the country can access meals at school to reduce the impact of facing poverty and hunger at home. Find out more about the impact of school lunch below:
Learn more about school meals at FRAC.org, and share our "Remember This December" school meals graphic.
Click to tweet: #RememberThisDecember that hunger is solvable with the federal nutrition programs, including the National School Lunch Program! Learn more about the impact of #schoollunch w/ @fractweets latest blog: http://bit.ly/2rL928u
Watch our video on the importance of federal the nutrition programs.