This guest blog is provided by the Hunger-Free Leadership Institute (H-FLI) through Partners for a Hunger-Free Oregon, an organization that raises awareness about hunger, gives people access to food, and advocates for systemic change to end hunger in Oregon. H-FLI is an eight-month leadership development opportunity for emerging community leaders in grassroots advocacy and anti-hunger systems change.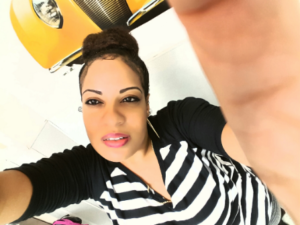 Tyra Black is a St. Louis native and long-time resident of Portland who mediates disputes for the City of Portland's Neighborhood Mediation Program. She is a fellow with H-FLI, and serves on the Multnomah County Public Health Advisory Board for the Public Health Division. Tyra has one spunky teen daughter and a very animated cat.
Co-hosted by Feeding America and the Food Research & Action Center (FRAC), the 2018 National Anti-Hunger Policy Conference, by all accounts, promises to deliver an incredibly transformational experience. It is a "must-attend" event for advocates of anti-hunger and anti-poverty policy, or as we might well declare here in Portland, Oregon, it is going to be "lit!"
As a "newbie" and first-time attendee of the conference, this is especially momentous for me and I am thrilled for the opportunity to join my fellow public servants, community leaders, thought leaders, change agents, and impassioned advocates from around the country in D.C. for two full days of an immersive suite of training opportunities, networking activities, and a dynamic lineup of workshops, kicking off on February 25, 2018.
As H-FLI eagerly gears up for this highly-anticipated policy conference, I personally am very excited to hear from our illustrious, highly-esteemed representatives and plenary panelists, like Rep Jim McGovern (D-MA) and Denise Forte (former staff director to the House Minority Education and Workforce Committee). I'm also looking forward to delving into federal nutrition programs, such as the Child & Adult Care Food Program and really exploring those "hot-button" issues and emerging trends.
I envision emerging from this experience with the "wind in our sails" as we boldly forge ahead, converging on Capitol Hill in solidarity with newly-formed and fortified alliances.  With an armory of innovative organizing tools, strategies, and best and model practices that build our capacity and illuminate our path, we will boldly reimagine our work and move our mission forward. From legislative advocacy and outreach to public policy campaigns and organizing – I know I will leave this conference prepared to preserve our vital community assets.
It is my sincere hope for my conference experience to form lasting relationships and particularly strong connections with H-FLI's regional partners, with whom we will get to convene at our Western Regional Meeting, as with our members of the Oregon conference delegation.
Our Capitol Hill appointments offer a unique opportunity to reinforce and build upon local government relations efforts and engage with our state's representatives, senators and congressional staffers to advance our economic priorities at all levels.
I hope to return refocused, with a renewed sense of purpose, inspired by substantial movements in food and economic justice and, as far I can tell, I have every reason to wholeheartedly believe this is possible.