March 8, 2023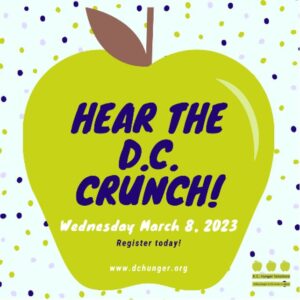 Let's "dig into school breakfast!"  March 6–10 is National School Breakfast Week when we highlight the importance of school breakfast and celebrate the hard work that teachers, school nutrition staff, and families have put in to make sure students have breakfast, either before the school day begins or after the bell rings.
This year, D. C. Hunger Solutions will continue to celebrate school breakfast by holding our annual Hear the Crunch Day!
Join us Wednesday, March 8, as we grab an apple and take a bite to show our support of School Breakfast Program.
According to the Food Research & Action Center's, School Reach Report, the School Breakfast Program provides critical nutrition support to children need, especially those residing in food insecure households. Additionally, participation in school breakfast strongly supports improved learning, stronger behavioral health, and less absenteeism from school.
Local policy initiatives such as the Healthy Schools Act in D.C. provide proven support that alternative school breakfast models contribute to improved student health and wellness.
For example, D.C. Public Schools offer several opportunities for students to receive school breakfast. Elementary school students can receive breakfast in the classroom — breakfast meals are delivered in insulated bags to each classroom, so classes can eat breakfast together after the bell rings. Middle and high school students can receive a portable breakfast option from a central location within the school, such as the front door on their way into the school. Meals are typically available throughout the morning to ensure students do not miss an opportunity to have breakfast before the start of their day.
National School Breakfast Week and Hear the Crunch are also important moments for us to look ahead to what is in store for school meals. The Universal School Meals Amendment Act of 2023, introduced by D.C. Councilmember Christina Henderson aims to provide school meals (including school breakfast) and afterschool snacks at no charge to all District of Columbia students regardless of household income.
As you show your support for school breakfast and Universal School Meals, follow our lead by taking a picture while taking a bite of your apple, and post it on social media by tagging DC Hunger Solutions at @DCHunger on Twitter and @dchungersolutions on Instagram, and by using the hashtags #HeartheCrunchDC and #NSBW23!   Download our Hear the Crunch Social Media Toolkit for graphics and additional information to share.
We'd love to hear how you plan to celebrate National School Breakfast Week and Hear the D.C. Crunch Day! Share your plans by signing up here.