With the unveiling of FRAC's exciting new collaboration with the American Academy of Pediatrics (AAP), Kofi Essel, MD, a General Academic Pediatrics Fellow at the Children's National Health System in Washington, DC, weighs in on childhood food insecurity in the U.S. and the launch of the new AAP-FRAC toolkit, Addressing Food Insecurity: A Toolkit for Pediatricians.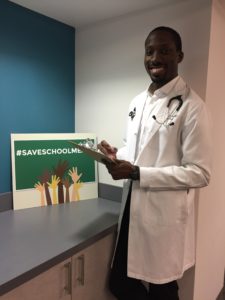 As a pediatrician, what are the effects of childhood food insecurity that you think doctors should be concerned about?
You can't necessarily tell by appearance which patients are food insecure. Working with children adds another layer of complexity in identifying food insecurity, since children are not always able to express their needs directly. When I talk to my colleagues about food insecurity in children, I want them to know that it often doesn't express itself in the form or fashion we might expect.
It's relatively straightforward to worry about food insecurity when a patient exhibits clinical signs — developmental delays, negative caloric balance. But the invisibility of food insecurity means that waiting for obvious symptoms to trigger concern can greatly diminish more effective, proactive approaches, such as universally screening patients and intervening earlier when they show signs of food insecurity.
Children struggling against hunger could experience an increased caloric imbalance due to a nutrient-poor and calorie-rich diet or diminished cognitive functioning, which can negatively impact their performance in school. These children also tend to act out more in the classroom and have overall poorer health than their peers.
The bottom line is that any child could be struggling with food insecurity — and that condition in turn is a social determinant of health and contributor to toxic stress that can severely impact a child's trajectory in life.
What role can pediatricians play in the fight against childhood hunger?
As a natural advocate for a voiceless generation, pediatricians must take steps to ensure no child or family struggles against hunger. The first step is to increase pediatricians' general awareness of food insecurity as a broad social problem and the extent to which patients are experiencing it, which is what the AAP-FRAC toolkit aims to do. Pediatricians can't necessarily rely on their extensive training or practical skills to identify food insecurity in patients.
AAP recommends that pediatricians use the Hunger Vital Sign™, a validated screening tool, to be able to better identify families facing food insecurity. Pediatricians can then direct these families to ways to access federal nutrition programs, such as the Supplemental Nutrition Assistance Program (SNAP), the Special Supplemental Nutrition Program for Women, Infants, and Children (WIC), and school meal programs to obtain the nutrition they need.
Keep in mind, food insecurity is a very sensitive topic. Pediatricians should make efforts to remove the stigma around hunger for families and provide a safe space for families to talk about their experiences without fear of judgment.
Why should pediatricians use the AAP-FRAC toolkit?
Pediatricians are extremely busy, and the toolkit can help them efficiently incorporate screening into their practice. It takes evidence-based information and translates it into realistic and practical steps that can be used to identify and address food insecurity.
Most importantly, the toolkit can help doctors, nurses, and other medical staff determine which resources are available, and how to refer families to those resources. It provides information on the federal nutrition programs (SNAP, WIC, and more) designed to reduce food insecurity, and also talks about how to tap into emergency food resources as needed.
Any final thoughts for our readers?
Food insecurity affects the whole household. Parents often go hungry so their children can eat, and this may create undue amounts of stress and strain on the whole family. Additionally, food insecurity is often more cyclical than chronic, so we should screen all patients on a regular basis in order to treat it effectively.
Finally, I am encouraged that AAP has taken up the issue of childhood hunger as a national priority. I recommend providers consider how they can adapt and incorporate the information in the toolkit into their workflow to meet the needs of the children and families they serve.