September 8 , 2023
Sunday September 10 is Grandparents Day. To address food insecurity among older adults, it is vital to leverage and invest in the federal nutrition programs for their proven ability to support the nutrition, health, and well-being of millions of older adults, and generate economic activity.
Federal nutrition programs like the Supplemental Nutrition Assistance Program (SNAP) can be game-changers for grandfamilies, providing financial and nutritional support to ensure that caregivers and children are nourished and healthy. work is more important than ever, given that older adults continue to grapple with high food prices and the impact of the COVID-19 public health and economic crisis.
Key Nutrition Programs for Older Adults
The table below identifies key federal nutrition programs available to older adults, ages 60 and older, that are administered by the U.S Department of Agriculture (USDA) and the U.S. Department of Health and Human Services (HHS).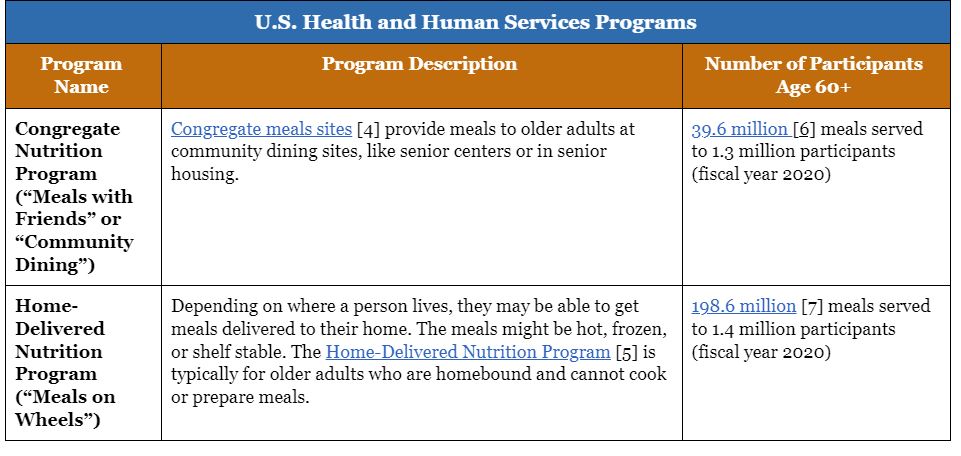 FRAC's Federal Nutrition Programs and Emergency Referral Chart for Older Adults provides additional information on how to access these and other programs — including The Emergency Food Assistance Program, Senior Farmers' Market Nutrition Program, the Child and Adult Care Food Program, and Medically Tailored Meal.
Opportunities to Take Action
There are several actions advocates can take to ramp up work to address hunger among older adults both during Grandparents Day and throughout the year:
Connect eligible older adults to the range of nutrition programs that support their nutrition, health, and well-being: Promote the importance of SNAP and ensure older adults are accessing SNAP and deducting eligible medical and housing expenses. Check out FRAC's new resource, SNAP Standard Medical Deduction for Older Adults and People With Disabilities and Strategies to Support Food Insecure Older Adults: How to Address the Looming Hunger Cliff In addition to helping older adults access SNAP, stakeholders can refer eligible older adults to the range of other federal and local food and nutrition resources that may be available in your areas, including the Commodity Supplemental Food Program, congregate meals, home-delivered meals, and food banks and emergency food sites. .
Engage in broader efforts to address hunger: There are opportunities to make the federal nutrition programs even stronger and improve access for older adults. Share FRAC's priorities for the 2023 Farm Bill to strengthen SNAP benefit adequacy and equitable access.
Improve your knowledge about the health impacts of food insecurity among older adults: Take the FRAC and AARP Foundation's free, online course Screen & Intervene: Addressing Food Insecurity Among Older Adults to learn more about the effects of food insecurity on the health of older adults, and opportunities to take action.
---
[1] https://frac.org/programs/supplemental-nutrition-assistance-program-snap
[2] https://fns-prod.azureedge.us/sites/default/files/resource-files/Characteristics2020.pdf
[3] https://www.fns.usda.gov/csfp/commodity-supplemental-food-program
[4] https://acl.gov/programs/health-wellness/nutrition-services
[5] https://acl.gov/programs/health-wellness/nutrition-services
[6] https://acl.gov/sites/default/files/news%202022-09/2020%20OAA%20Report_Complete%20Product%209-1-22_508.pdf
[7] https://acl.gov/sites/default/files/news%202022-09/2020%20OAA%20Report_Complete%20Product%209-1-22_508.pdf