FRAC On the Move is a series in which we follow our policy and program experts as they connect with advocates across the country to explore strategies and develop solutions to end hunger. Follow #FRACOnTheMove on Twitter for our latest whereabouts. This installment was written in collaboration with Dawn Schluckebier, Principal Associate at the Institute for Youth, Education, and Families, National League of Cities
Representatives from the Food Research & Action Center (FRAC) and the National League of Cities (NLC) recently joined over 250 California representatives from local governments, school nutrition departments, food banks, law enforcement agencies, libraries, county health departments, community-based organizations, literacy and youth development agencies, and the California Department of Education at two regional afterschool and summer nutrition summits: one in Richmond and one in San Bernardino County. Hosted by the California Summer Meal Coalition, the summits provided attendees the opportunity to learn more about the federally funded summer and afterschool meal programs and to share ideas and best practices for increasing the number of children served in their communities.
The Coalition – a program of the Institute for Local Government– is a key partner in NLC and FRAC's Cities Combating Hunger through the Afterschool and Summer Meal Programs (CHAMPS) initiative. CHAMPS has supported over 41 cities and 18 anti-hunger organizations across the country to develop and implement strategies to increase children's access to healthy meals and snacks through the child nutrition programs.
This year, new CHAMPS projects are being launched in three states: Alabama, California, and Kansas. In California, NLC, FRAC, and the Coalition are partnering to provide technical assistance to 11 grantee cities and a number of city agencies to increase participation in afterschool and summer meals.
Collaboration was the theme of both summits. Speakers and attendees discussed the importance of collaboration among city, county, school and community leaders to leverage limited resources. In Southern California, the summit was followed by a breakfast for elected city, county and school district leaders to highlight the critical role that elected officials can play to advance the health and well-being of their communities by supporting access to afterschool and summer meal programs.  These roles range from supporting the development of a citywide promotion campaign, participating in local community events, sponsoring and operating the Afterschool and Summer Nutrition Programs, and working with county and school colleagues to identify solutions to out-of-school time barriers.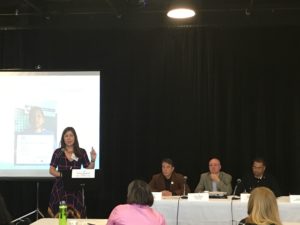 Attendees at both summits left energized and equipped with innovative strategies to try, new partners to engage, and a renewed commitment to year-round nutrition access. Four key summit takeaways:
City leaders can play a critical role in supporting meal programs.
Hayward City Councilman Mark Salinas shared an example of the important role city leaders and elected officials can play in expanding the Summer and Afterschool Meal Programs. After hearing about the need in his community, and the federal funding available through the afterschool and summer nutrition programs, he engaged community stakeholders and brought partners together to better meet the nutritional needs of the children in his city.
Having a vision and setting goals is important.
Implementing successful meal programs – and sustaining them – takes coordination and collaboration on many levels. Having a vision for your city and setting goals for program growth is important. These programs take time to build, and setting realistic goals helps keep efforts on track. Find out where your state ranks in summer meals participation and where you may be able to target efforts.
No community should work in a vacuum.
To reach more children with the summer and afterschool meal programs, it's important for cities, counties, and school districts to work together to ensure the wellbeing of kids in the community. Thinking holistically about the issue of hunger and the solutions that exist – and how to include out-of-school-time in that conversation – allows us all to think creatively about strategies and the unique strengths every organization can add.
When something works, share it!
When models work locally – whether it be a specific type of marketing campaign, a way to improve the quality and appeal of meals served, or a strategy to engage elected officials – it's important to share them broadly so they can be scaled and tailored to other communities. FRAC and Feeding America's Anti-Hunger Policy Conference is a great place to share and learn about successes across the country– register today!
If you are a city leader, now is the perfect time to convene community partners to ensure your city is utilizing all available resources that help keep children engaged and healthy when school is out. Reach out to the anti-hunger advocates in your state to see how you can get started today.