February 27, 2020
Are you missing out on the National Anti-Hunger Policy Conference? While nothing will compare to sharing advocacy experiences with 1,000+ of your peers, we'll be live streaming and live-tweeting a selection of speaker sessions and workshops!
Times are approximate.
Sunday, March 1
10:15 am Eastern: Tune in to @fractweets as we live-tweet a workshop on Intersecting Advocacy: How and Why LGBTQ, Women's, and Civil Rights Partners are Fighting Hunger.
1:45 pm Eastern: We'll be live-tweeting a workshop on Food Insecurity and Health: Three Initiatives that Could Change the Landscape.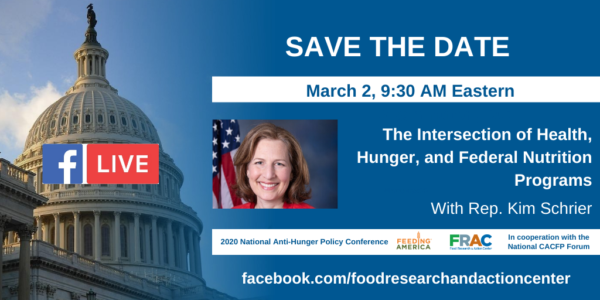 Monday, March 2
9:30 am: Watch on Facebook Live as Rep. Kim Schrier speaks at the Breakfast Plenary on the Intersection of Health, Hunger, and Federal Nutrition Programs.
1:00 pm Eastern: Check out the Lunchtime Plenary – Elevating Hunger and Poverty during the Election Cycle and in the Public Discourse – on Facebook Live.
2:00 pm: Follow @fractweets as we live-tweet the session on Census 2020: Ensuring People Struggling With Hunger are Counted.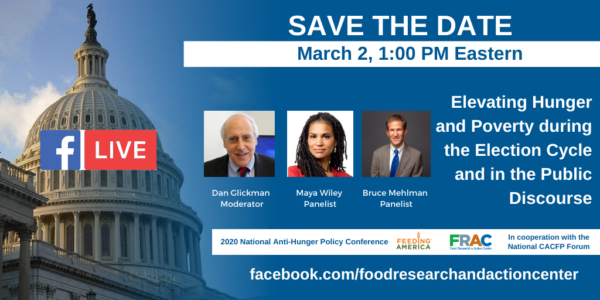 Tuesday, March 3
8:00 am: Sen. Bob Casey will kick off Lobby Day. Check out our live tweets of his remarks.
In addition to live streaming and live-tweeting from our Facebook and Twitter pages, we'll also be sharing photos from our Instagram account, @fracgram. Check us out!
See it all in real life next year. Sign up to get FRAC's e-newsletters to stay in the loop.