Media Contact:
Emily Pickren
epickren@frac.org
202-640-1118
Report Shows How to Reverse This Trend
WASHINGTON, May 7, 2019 — Far too many pregnant women, new mothers, and their young children in the U.S. are missing out on the healthy nutrition they need, according to a report released today by the Food Research & Action Center (FRAC). Making WIC Work Better: Strategies to Reach More Women and Children and Strengthen Benefits Use features a comprehensive set of recommendations to overcome the barriers that have led to a downward trend in participation in the Special Supplemental Nutrition Program for Women, Infants, and Children (WIC), a federally funded program that provides low-income pregnant women, new mothers, infants, and young children with nutritious foods, nutrition education, and improved access to health care.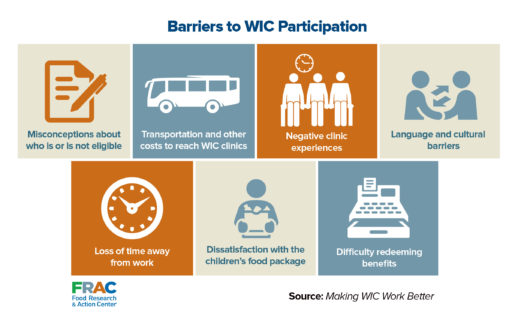 In fiscal year 2018, WIC served an average of 6.9 million participants each month, down 23 percent from a high of 9.2 million per month in fiscal year 2010, according to the U.S. Department of Agriculture, which administers the program. Barriers at national, state, and local levels have contributed to this decline.
"Good nutrition is important in all stages of life, but particularly so in the earliest years, when it serves as a critical building block for a healthy future," said Geri Henchy, FRAC's director of nutrition policy and early childhood programs. "More must be done to connect more women and children to WIC. As we approach Mother's Day, this is a timely reminder that no mother should be worried, on any day, about how she will provide nutritious food to her children to maintain their health and prevent hunger."
The report highlights the large body of research that shows participation in WIC is associated with not only better diets for both mothers and children, which reduces childhood obesity, but also healthier births, lower infant mortality, increased immunization rates, and access to regular health care. Children who participate in WIC also are likely to have better academic outcomes than low-income children who do not benefit from the program.
Despite WIC's much-needed benefits, the report finds that many eligible families face significant barriers to participating in the program, including:
misconceptions about who is or is not eligible (particularly about the eligibility of low-wage working families, members of immigrant families, and children ages 1 to 4 years old);
lack of knowledge of the program;
language and cultural barriers;
negative clinic experiences (e.g., long wait-times or poor customer service);
loss of time away from work to apply for benefits and maintain eligibility;
dissatisfaction with the prescribed food package; and
difficulty redeeming benefits (due to a limited selection of WIC-eligible foods and embarrassing check-out experiences).
Making WIC Work Better provides strategies to overcome these barriers and effectively reach and serve more eligible pregnant women, mothers, and their young children, including recommendations for improving the WIC clinic experience, adopting technology to modernize the program and optimize the shopping experience for WIC recipients, and retaining and recruiting families with eligible but unserved children 1 to 4 years old. The strategies in Making WIC Work Better are a result of FRAC's multi-year investigation of the barriers to WIC participation and use of benefits, which was funded by the Robert Wood Johnson Foundation.
"WIC is a powerful program that is essential to building a Culture of Health for mothers and young children in communities across the country," said Jamie Bussel, senior program officer at the Robert Wood Johnson Foundation. "It's time to redouble efforts to ensure more families can enroll in WIC and access healthy foods and beverages that will give their youngest children the best start possible by helping to improve their diet and reduce obesity rates."
###
The Food Research & Action Center is the leading national nonprofit organization working to eradicate poverty-related hunger and undernutrition in the United States.