Follow this link to FRAC's Poverty, Hunger, Health, and the Federal Nutrition Programs: A Profile of the Southern Region.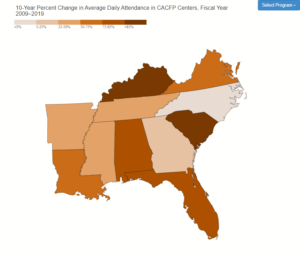 Many in the Southern Region states live with the crushing burdens of food insecurity, poverty, health disparities, and historical and structural racism. These inequities have serious consequences for the health and well-being of children and adults. The federal nutrition programs are one of many resources and significant structural changes needed to address these issues. The federal nutrition programs can help reduce food insecurity, improve dietary intake and health, boost learning and development, help lift families out of poverty, and act as a stimulus for local economies. The federal nutrition programs are an important source of support in the Southern Region. However, there are serious gaps in participation that need to be addressed.
Data are available for Alabama, Arkansas, Florida, Georgia, Kentucky, Louisiana, Mississippi, North Carolina, South Carolina, Tennessee, and Virginia. Collectively, these states are referred to as the Southern Region. This report highlights the need for and value of federal nutrition programs in the Southern Region, especially in light of COVID-19, using indicators of health and inequity. It also explores federal nutrition program strengths, participation gaps, and strategies for improvement that stakeholders can use to connect more people to the federal nutrition programs.
View the data sources and technical notes.
Data last updated July 2020.
DATA TABLES
Population
Economic and Food Security, Equity, and Health
Health Disparities
Federal Nutrition Programs
INTERACTIVE MAP
This interactive map provides state-by-state data on participation in the federal nutrition programs for Southern Region states. Data includes attendance in CACFP Homes and Centers, coverage rates in SNAP and WIC, and participation in the School Breakfast Program, Summer Nutrition Program, and CACFP Afterschool Supper.