At the height of the COVID-19 pandemic, 285,000 households (1 in 12) in New Jersey did not have reliable access to affordable, nutritious food.
The pandemic has exacerbated longstanding inequities in food insecurity in New Jersey. Analysis of the Census Household Pulse Survey shows that in 2021, 14 percent of Black households and 18 percent of Latino households in New Jersey experienced food insufficiency, compared to 5 percent of white households.
During COVID-19, diverse community organizations pivoted to diligently address food insecurity, and state agencies worked to implement effective federal flexibilities that helped mitigate the issue.
Despite the seeming ubiquity and severity of food insecurity, there are many actionable solutions to address this issue effectively and equitably, and implementing these solutions has meaningful impacts on population health, the economy, and community resiliency.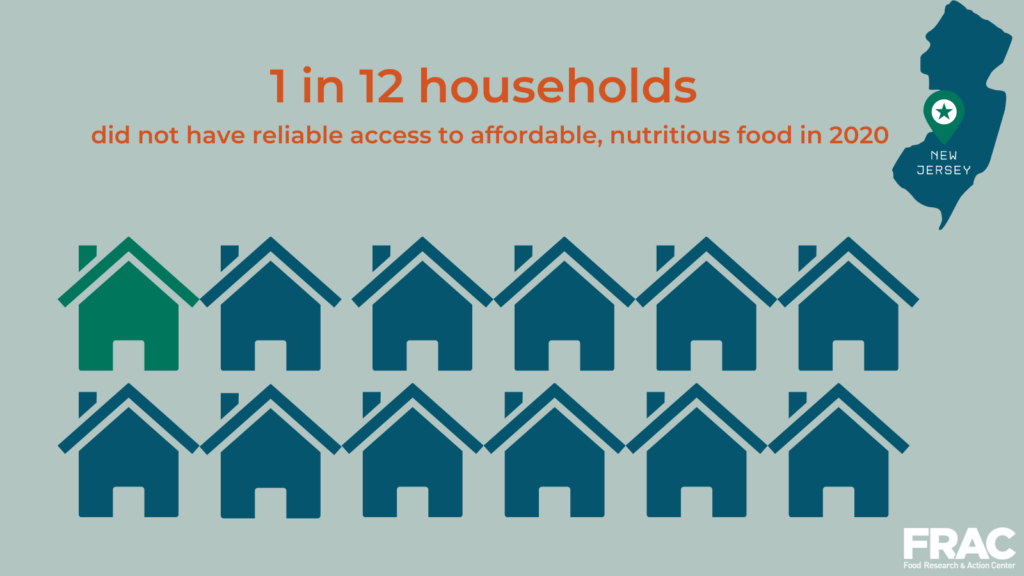 Food Insecurity in New Jersey
Hunger continues to threaten the health and well-being of far too many in New Jersey, and the COVID-19 pandemic has only exacerbated longstanding inequities. Community disinvestment and systems of oppression like systemic racism have resulted in disproportionate burdens of food insecurity along geographic lines and by race and ethnicity.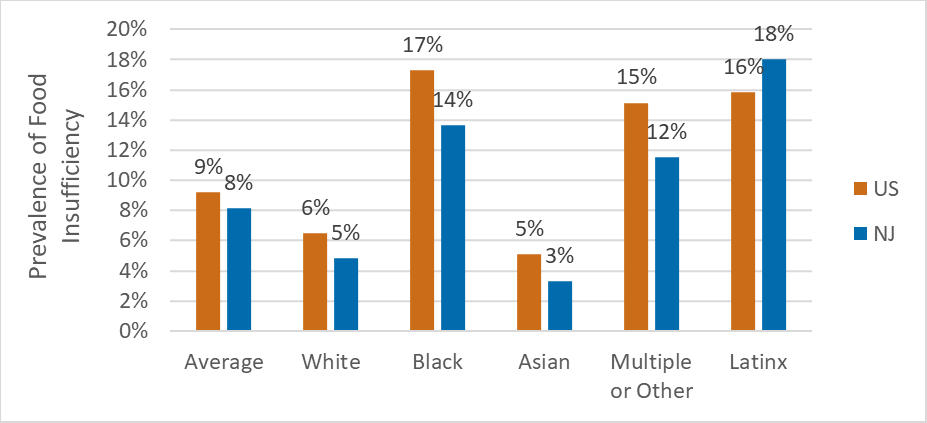 These disparities must be addressed to create an equitable opportunity for good health for all. Thankfully, there are a multitude of exemplary existing initiatives to address hunger in New Jersey, including the federal nutrition programs. With the onset of COVID-19, a diverse array of community organizations and state agencies pivoted quickly to address hunger, providing residents with both food and connections to further services and support.
Yet far more must be done to address this pressing issue. What is needed now is a radically collaborative approach, one harnessing the capabilities and sensitivities of stakeholders across New Jersey's extensive food system.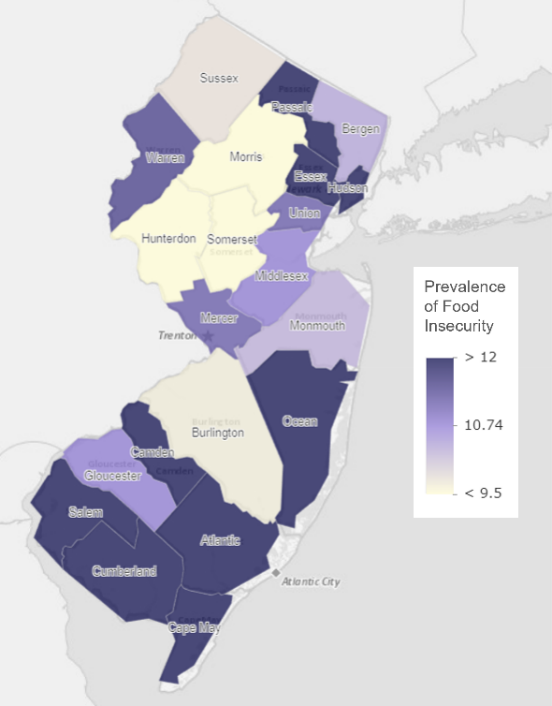 Recommendations
Working in partnership with RWJF, FRAC facilitated a statewide assessment of hunger in New Jersey to reveal the salient barriers to food security and their solutions at the programmatic, systems, and policy levels.
The project engaged stakeholders across New Jersey's food system to help foster a racially just and equity-focused approach, including over 150 stakeholders through key informant meetings; focus groups with residents with lived expertise of poverty and hunger; and three online meetings of the New Jersey Anti-Hunger Work Group.
To better conceptualize the range of best practices and initiatives to address food insecurity in New Jersey, we have characterized recommendations and strategies from stakeholders and the evidence-based literature into three major goals:
Goal 1 – Enhance cross-sector coordination and expand community outreach using client-centered communication channels
Goal 2 – Maximize equitable food purchasing power and procurement systems and support community development
Goal 3 – Build infrastructure and capacity necessary to leverage current and emerging policy and program opportunities

Our stakeholder engagement, data analysis, and policy evaluations bolstered the known reality that food insecurity is a pervasive and multidimensional issue in New Jersey that requires creative solutions across sectors and across levels of influence. To learn more about actionable recommendations to mitigate hunger, read the report. For more on the landscape of the federal nutrition programs in New Jersey, view the supplemental brief.