The Food Research & Action Center (FRAC) was awarded a $2 million cooperative agreement from the U.S. Department of Agriculture (USDA) to conduct and support research on expanding equitable access to the federally-funded child nutrition programs. This project will run through December 2025. 
Child Nutrition Programs: Critical for Child Health & Learning
Research shows the value of the child nutrition programs. They help reduce childhood hunger, decrease childhood obesity, improve child nutrition and wellness, support academic achievement, and enhance child development and school readiness.
Despite their benefits, too few eligible children participate, and the services delivered may vary by community. National data consistently shows that Black and Latinx households with children are more likely to report food insecurity. The COVID-19 pandemic has also further exacerbated inequities for historically and currently marginalized communities.
The Equitable Access in Child Nutrition Programs project will focus on identifying barriers to equitable access and opportunities to expand participation and equitable service delivery.

Equitable Access in Child Nutrition Programs: Project Goals
Through the Equitable Access in Child Nutrition Programs Project, FRAC will identify, support, and share research on barriers to participation and equitable service delivery in child nutrition programs, including the National School Lunch Program, School Breakfast Program, Fresh Fruit and Vegetable Program, Summer Food Service Program, Seamless Summer Option, and Child and Adult Care Food Program.

Identify barriers
that participants, potential participants and/or program operators, especially in underserved communities, may face when accessing or attempting to access any child nutrition program.

Identify circumstances
that may result in inequitable delivery of services.

Identify strategies
that can address barriers to participation and strategies that can address barriers to equitable service delivery.

Generate evidence
of efficacy of interventions to improve access to CN programs and/or equitable service delivery within programs.
Through this project, FRAC will:
hold listening sessions with school meals, out-of-school time meals, and CACFP stakeholder groups to determine priority areas of research;  
provide competitive regrants to organizations to conduct research projects;  
develop a community of practice for subgrantees and provide programmatic and evaluation technical assistance; and
disseminate updates, findings, and project data throughout.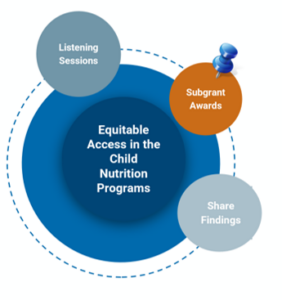 The term "equity" means the consistent and systematic fair, just, and impartial treatment of all individuals, including individuals who belong to underserved communities that have been denied such treatment, such as Black, Latino, Indigenous and Native American persons, Asian Americans and Pacific Islanders, and other persons of color; members of religious minorities; lesbian, gay, bisexual, transgender, and queer persons; persons with disabilities; persons who live in rural areas; and persons otherwise adversely affected by persistent poverty or inequality.
Resources
FRAC Receives $2 Million Grant from U.S. Department of Agriculture to Support Equitable Access to Child Nutrition Programs

Read the press release