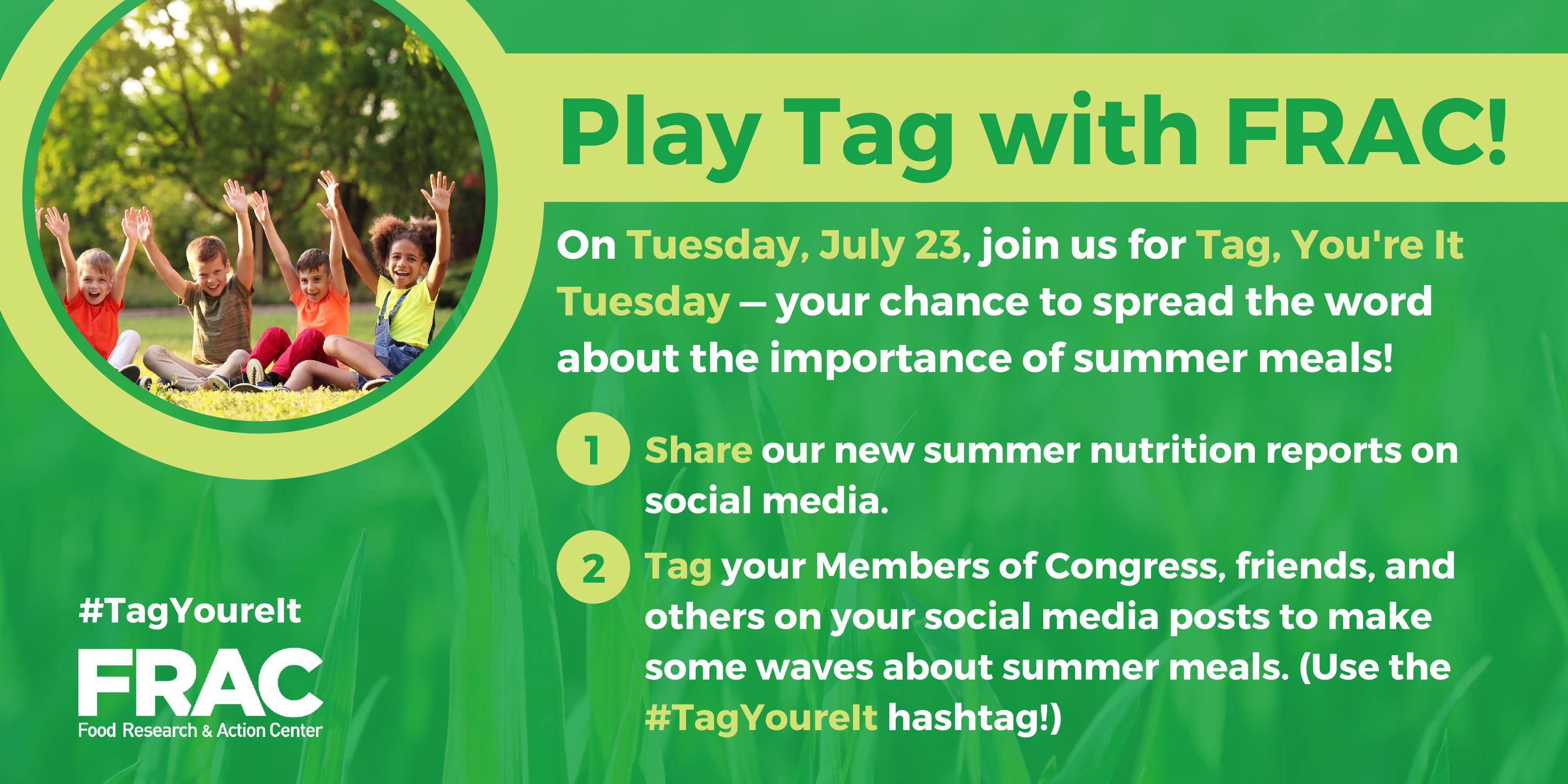 Tag, You're It! Celebrate Summer Meals With FRAC on 7/23
Summer meals play a key role in closing the summer nutrition gap that exists for millions of low-income children when the school year — and access to schools meals — ends. To spread the word about the importance of summer meals to fighting childhood hunger during the summer months, join FRAC for Tag, You're It Tuesday on Tuesday, July 23, 2019.
Follow these two easy steps to join in on the fun:
(1) Share: Throughout Tag, You're It Tuesday, take to social media and share why summer meals are critical to curbing child food insecurity and summertime weight gain and learning loss when paired with summer programming. To help you with crafting messages that explain why summer meals are key, see below for FRAC's new summer nutrition reports and interactive tools. Also, check out the below sample social and graphics.
(2) Tag: As you share your social media posts, tag your Members of Congress, partner organizations, friends, family, and others to ensure your messages reach key stakeholders. Be sure to use the #TagYoureIt hashtag!
---
Full Reports:
Hunger Doesn't Take a Vacation: Summer Nutrition Status Report
Hunger Doesn't Take a Vacation: Summer Breakfast Status Report
---
Interactive Tools: View
---
National News Release: View
---
Model News Release for States: Download 
---
Sample Social: Click on "Share" links to tweet sample social
Tip: Be sure to tag your senators and representatives on Twitter.
FRAC's social media handles: @fractweets (Twitter), @Food Research and Action Center (Facebook), @fracgram (Instagram)
Download and share additional sample social.
---
Graphics: Click on each graphic to download the full-size version