Could you survive on just $4 per day without going hungry? Experience what life can be like for millions of low-income Americans who receive SNAP benefits.
Take FRAC's SNAP Challenge!
Most participants take the Challenge for one week and discover they have to make difficult food shopping choices, and often realize how difficult it is to afford nutritious foods, and stay healthy. While living on a SNAP budget for just a week cannot come close to the challenges encountered by low-income families week after week and month after month, it does provide those who take the Challenge with a new perspective and greater understanding.
For the past 10 years, FRAC has supported and fostered SNAP Challenges to help educate the public and opinion leaders about the important role SNAP plays in mitigating hunger and poverty — and the need to strengthen the program so beneficiaries can afford enough food for their health and well-being.
The Challenge first captured public attention in 2006 when FRAC allies in Philadelphia hosted one, followed by groups in Wichita, Kansas.
The Challenge took the national stage in 2007 when four Members of Congress — Representatives James McGovern (D-Mass.), Jo Ann Emerson (R-Mo.), Jan Schakowsky (D-Ill.), and Tim Ryan (D-Ohio) — pledged to live for one week on an average SNAP budget and blogged about their experiences.
Since then, hundreds — if not thousands — of people have taken the Challenge, including Members of Congress, governors, state legislators, mayors, celebrities, religious and community leaders, reporters, and average citizens.
Now you can too…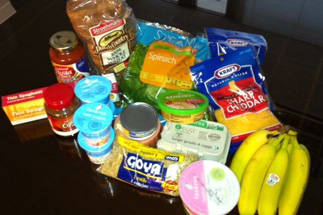 SNAP Challenge Toolkit
Includes Challenge guidelines, registration hints, host event ideas, media planning information, and more.
Join me in taking FRAC's #SNAPChallenge and experience what life is like for millions of Americans struggling against hunger. #EndHungerNow